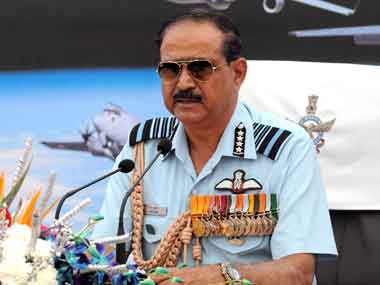 Nagpur News: The anti-Naxal operations in Maoist hotbed of Jagdalpur in Chhattisgarh are set to get a boost with IAF deciding to provide helicopter support from Nagpur where a new unit is being set up.
Talking to reporters on the sidelines of a DRDO function, IAF head Air Chief Marshal NAK Browne said there was need to deploy some new systems in the Maoist-hit areas which would provide better surveillance capabilities to the forces there.
The IAF has at present deployed six Mi-17 choppers from a unit based in Gorakhpur and they operate from three locations including Ranchi in Jharkhand and Raipur and Jagdalpur in Chhattisgarh to support the operations.
Air Chief Marshal NAK Browne. Image courtesy PIB
"We are going to raise a unit of our latest MI-17V5 choppers in Nagpur by next month which will provide full support to anti-Naxal operations in Jagdalpur by the forces on ground," Browne said.
He said the base of the new unit would be closer to Jagdalpur and will have lesser response time in case of some incident there. The Nagpur unit will deploy two to three of its Mi-17V5 choppers in Jagdalpur which would be capable of carrying out both day and night operations.
Browne said the decision to deploy these choppers in Nagpur was not in response to the recent incident in which Congress leaders were killed. It was planned much before the incident which left 27 people dead and 32 others injured.
Meanwhile, Defence Minister AK Antony once again said armed forces would not be deployed in anti-Naxal operations in direct role.
Asked if the defence ministry would provide help para-military personnel in terms of training, the defence minister said, "Regarding training of paramilitary forces, whatever support is required, will be extended."
IAF uses its choppers in the anti-Naxal operations for carrying out casualty evacuation and transportation of police and Central forces in Chhattisgarh and Jharkhand and deployed five choppers in the recent attack on Congress leaders also for evacuation.
Commenting on the induction of the heavy strategic lift aircraft C-17, the IAF chief said three aircraft would be inducted at the Hindon air base near New Delhi in June second week.
Browne said IAF is in the contract negotiation stage for procurement of five major systems including the 126 Medium Multilrole Combat Aircraft tender.
He said talks were in final stages for procuring 22 Apache choppers, 15 Chinook heavylift choppers and additional six C-130J Super Hercules special operations aircraft from the US and six mid-air refuelling aircraft from Airbus Military of Europe this year.
The IAF chief expressed hope that the deal for 126 Rafale combat aircraft would be inked before end of this year and all issues over the contractual obligations were over.
Asked as to what were the new systems that could be deployed in Naxal areas for better surveillance, the IAF chief said they were "classified systems" and refused to divulge any detail.
On use of Unmanned Aerial Vehicles (UAVs) in Naxal-hit areas, he said the NTRO had deployed its UAVs there.
On induction of IAF's latest Pilatus basic trainer aircraft, the IAF chief said 10 aircraft have already arrived at the Air Force Academy in Dindigul, Andhra Pradesh and they would be formally inducted into the force on 31 May.
The Swiss-made Pilatus PC-7 aircraft will be formally inducted into Indian Air Force as the basic trainer for pilots.