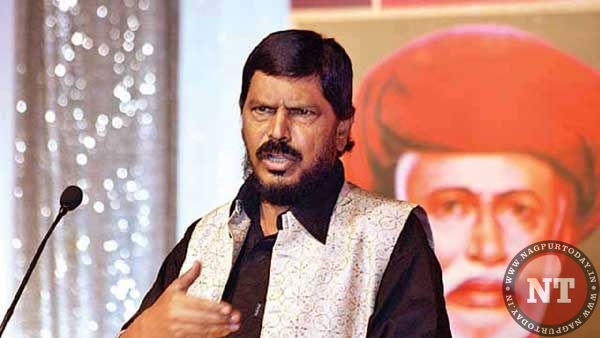 Nagpur: "Every religion has certain traditions and rituals. The Shastra pujan by the Rashtriya Swayamsevak Sangh (RSS), which is part of its annual ritual Vijayadashami, is an example of such rituals. Despite our differences we should celebrate the bond of brotherhood. I support shastra pujan but oppose its use" said Ramdas Aathawale, Minister of State for Social Justice and Empowerment here on Wednesday.
Athawale was speaking at the press conference at Ravi Bhavan where he discussed the future plans of his party and also addressed issues like bringing petrol, diesel under GST regime, allegations of MeToo etc.
While throwing light on the role of his Republican Party of India-A (RPI-A) in upcoming elections, the Minister said that, if BJP-Shiv Sena alliance fails for 2019 Lok Sabha election, RPI will definitely support BJP and will work with full potential to win them at least 30 seats.
Athawale further said that the BJP-led government is aware of the aguish among people regarding the rising petrol, diesel prices. "The Modi Government will take care of this problem before it turns severe, even if it means by bringing petrol, diesel under GST".
Dwelling on the blazing #MeToo campaign, in which BJP Minister MK Akbar has also been accused of sexual harassing by female journalists, Athawale said that, he supports women's empowerment and welcomes women speaking for themselves with this campaign. "The accused should be punished no matter if he is a minister or a film star. However, we have seen such allegations turning out to be a publicity stunt. So we should wait for court to decide rather than draw any conclusion."
While explaining the controversy over using of word 'Dalit', the Minister said that, "Dalit means a person who has been suffering and exploited by others for long. Irrespective of any caste or religion, any individual who is poor and oppressed can be referred as a Dalit."
– Shubham Nagdeve