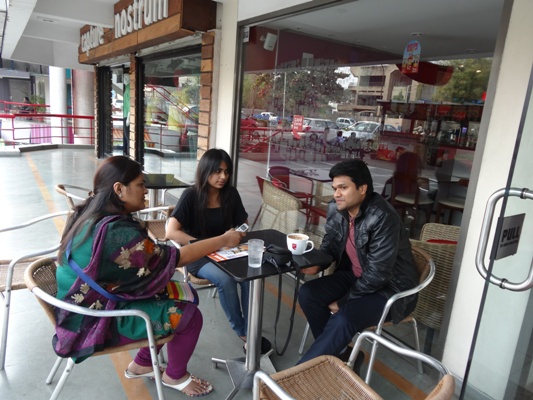 Nagpur News: One who looks outside, dreams. Who looks inside, awakens. And music is for them. Music is not for musicians alone, it is for all – when you are sad, when angry, when happy.. One who chooses the path of music has a different plane to speak of. This is what Nagpur Today witnessed while a short meeting with Nikhil Paul George.
Nikhil's voice for 'Barfi' created ripples with 'Main kya karoon…' a soft solo number, and 'Aashiyan…' a duet with Shreya Ghosal.
He worked with A R Reheman and other big name in the industry. Presently, Nikhil stays in London and is busy incorporating music production, composition and music arrangement.
Nagpur Connect:
"From Tiny Tots to Bishop Cotton, from All Saints' School I landed up at SFS during my schooling days. After my graduation (Computer science from Hislop College, Nagpur University) I moved to London for further study composition at the Royal College of Music. Since then I am settled in London. But Nagpur has always been close to my heart. There are so Nagpurians in London, including my close friends.
Nagpur has contributed to what I am today —  my teachers, my friends, mentors… I owe a lot to this city of oranges. I remember my city then, but now there is much more. Radio, media and opportunities are more open now."
Early days
"I am from a musical family. I was more into Western classical guitar during my early days. I also opted for a job teaching Western classical guitar. Though it was tough, I got a scholarship for studying music in London. I was and still am connected to Church music; it has had a immense influence on me.
Life as a professional
"Pritam was introduced to me through a common friend. I've worked in this industry as vocal recording engineer, vocal arranger, programmer, conductor and backing vocal performer and have played various instruments as well in Dum Maaro Dum, Bodyguard, Mausam, Players, Ferrari Ki Sawari, and Cocktail. And much is coming.
Actually, I started my work with music arrangement for Barfi and singing just happened. Moreover, London has given me a lot of exposure. It is an international stage for artists. The city is very much into arts and culture."
Where do you want to see about a decade later?
"Making music. I am not really a singer. My voice may suit certain character actors, but not the main stream. Mostly, I work on the arrangement of songs, background scores, instruments and orchestra."
Music is deeply rooted in me. Fascinating rhythms and instruments make me nostalgic. And hence I am more into making and arranging music.
Thinking
Though India, Nagpur in particular, has given me a lot, but India surely needs some reforms. London has introduced me to a lot of music like Western Orchestra. The quality in London is much more profound.
Youngster must be more patient and ready to take in struggle. I am more of a spiritual kind. And that is what I owe my success. It helps me move on."
Getting married?
" Ah! (with a big smile). May be in near future. As of now I am 'unmarried'." (He maintained a mysterious silence on his relationship status.)
Message for youth
"Stay connected. Live the life you are happy in and dreamt of. What matters is your attitude. Don't run away from struggle. Without struggle you cannot built a unique character"
…. Ritu Walia