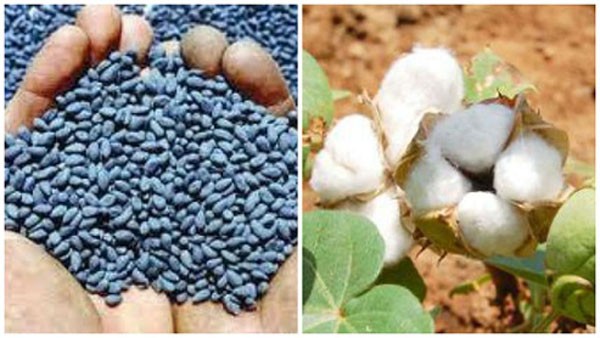 Nagpur: Beltarodi police and Agriculture Department officials on Wednesday raided a house in Panzri village and seized a huge stock of spurious Bt Cotton seeds worth Rs 27.20 lakh meant to sell to gullible farmers. 3400 packets of 450 grams each (1530 kg) were seized from possession of accused Ashok Bapurao Kamble (55), who himself is a farmer.
The seized stock of spurious Bt Cotton seeds was allegedly manufactured in the adjoining state of Telangana. The seeds were of 'unauthorised' variety and herbicide-tolerant strain of Bt Cotton, stated a complaint lodged at Beltarodi PoliceStation by Dr Yogiraj Jumle (51), Technical Officer, Joint Director Agriculture's Office, Administrative Building No. 2, Nagpur.
According to police, the Flying Squad (Quality Control) of Agriculture Department received inputs that the accused Kamble had stored a huge stock of 'unauthorised' Bt Cotton seeds. When the Flying Squad, along with Beltarodi police conducted search at the house of Kamble, they found the packets of herbicide-tolerant BtCotton variety, which has not been authorised for sale.
Beltarodi police constable Krishna Kalmegh, based on the complaint of Dr Jumle, booked the accused Ashok Kamble under Section 420 of the IPC read with Sub-Sections 14 (9) (c), 14 (1) (d), 7 (a), 7 (b), 7 (c), 8 (A) of Seeds Act; Provisions 3 (1), 18 (1), 18 (2), 13 (1) (c), 13 (1) (a), 8 (A), 9 of Seeds (Control)Order; Rules 8,9,10,11, 12, 13 (1), 23, 23 (a), 23 (c), 38 of Seeds Rules; Sections 2 (iii), (iv), (vi), (vii), (viii), (x), (xi), (xii) (a) (b)(c) and 4 (1)(I)(ii), 4 (2), 4 (3), 5 (1), 5 (2), 5 (3), 11 (1) (2) and 12 (1) of Maharashtra Cotton Seeds (Regulation of Supply, Distribution, Sale and Fixation of Sale Price) Act. Further, the FIR sought to book Kamble under Provisions 7, 8, 15 (1), 15 (2), 16 (1), 16 (2) of Environment (Protection) Act, and 3 (iv), 4 (3) (1) of Rules for the Manufacture, Use/Import/Export and Storage of Hazardous Micro Organisms/ Genetically Engineered Organisms or Cells. It is probably for the first time that so many provisions of law have been invoked.