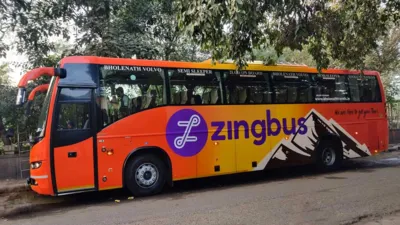 Planning your perfect Pune to Nagpur bus itinerary is an exciting way to explore these two cities in Maharashtra, India. Here's a step-by-step guide to help you plan your itinerary:
Determine your travel dates: Decide on the dates you'll be travelling from Pune to Nagpur and vice versa. This will help you schedule your activities and book your bus tickets accordingly.
Research bus operators: Look for reliable bus operators that offer services on the Pune-Nagpur route. One popular option is zingbus, which provides comfortable and convenient bus travel experiences. Check their schedules, fares, and amenities to choose the most suitable option after that you can book your Pune to Nagpur bus from zingbus.
Check bus timings and duration: Take note of the bus timings and the duration of the journey from Pune to Nagpur and Nagpur to Pune. Typically, the journey takes around 12-14 hours, but it may vary depending on traffic and road conditions. Consider this travel time when planning your itinerary.
Allocate time for travel: Account for the travel time between Pune and Nagpur when planning your itinerary. Decide if you prefer traveling during the day or overnight and adjust your activities accordingly.
Explore Nagpur attractions: Research and make a list of places to visit in Nagpur. Some popular attractions in Nagpur include:
Deekshabhoomi: A sacred monument of Buddhism and a significant pilgrimage site.
Sitabuldi Fort: An old fort offering panoramic views of Nagpur.
Maharaj Bagh: A beautiful garden with a variety of flora and fauna.
Futala Lake: A popular spot for boating and enjoying local street food.
Ambazari Lake: A serene lake with recreational activities like boating and a musical fountain show.
Raman Science Centre: An interactive science museum for educational and entertaining experiences.
Plan your Pune itinerary: If you're starting your journey from Pune, explore attractions in the city as well. Some notable places to visit in Pune include:
Shaniwar Wada: A historic fortification and palace.
Aga Khan Palace: A significant monument related to India's freedom movement.
Osho Ashram: A spiritual center offering meditation and personal growth programs.
Sinhagad Fort: A hill fortress with panoramic views of the surrounding region.
Local markets like FC Road, Deccan Gymkhana, and Laxmi Road for shopping and experiencing the local culture.
Allocate time for activities: Based on your interests and the number of days you plan to spend in each city, allocate time for visiting attractions, exploring local markets, indulging in local cuisine, and experiencing the culture. Be mindful of the opening hours and any specific events or festivals happening during your visit.
Book bus tickets and accommodations: Once you have a rough itinerary, book your bus tickets in advance to secure your preferred timings with Zingbus or any other reliable operator. Also, make reservations for accommodations in Pune and Nagpur based on your travel dates and preferences.
Stay organized: Create a detailed day-wise plan with a list of attractions, addresses, timings, and any other relevant information. Carry a map, guidebooks, and necessary contact numbers for emergencies.
Remember to check for any travel advisories, COVID-19 guidelines, or specific protocols in place during your travel dates. Adapt your plans accordingly and enjoy your Pune to Nagpur bus journey, exploring the best of both cities!