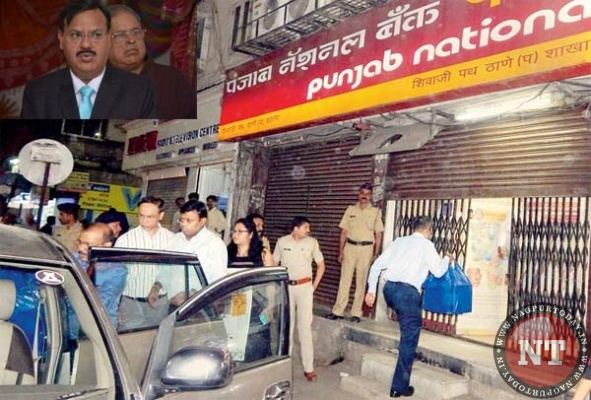 Nagpur: Punjab National Bank (PNB) can play victim all it wants, but the truth is, it is just as culpable for covering up the Rs 12,000-crore Nirav Modi scam. The con could have been blown wide open two years ago had the bank responded truthfully to RTI activist Sunil Mishra when he asked for a list of the top 20 loan defaulters. Instead, the bank chose to obstruct his inquiry.
In March 2016, Sunil Mishra sent a query under the Right To Information (RTI) Act to PNB, seeking information on the top 20 loan defaulters across the state, the nation and in the Vidarbha region (in three separate lists). He also wanted to know what efforts were being made to recover the money from defaulters, if any.
"Imagine what would have happened if PNB had released the information. Considering the size of the loan Nirav Modi and his company have, I'm sure their names would have been there in the defaulters' list," said Mishra, speaking to mid-day from his residence in Nagpur.
The activist is sure that several other scams would have also been exposed, as he had made similar applications to all nationalised banks. However, only two – Allahabad Bank and Canara Bank – gave him the information he sought. Mishra had addressed his application to the headquarters in Rajendra Nagar, New Delhi, but the bank turned down his request. "The PNB headquarters refused, stating that the matter concerned more than one information officer. They wanted me to apply to every working branch that PNB had in the country. I think this was a wilful effort to hide information from me," said the activist.
'Breach of trust'

Other banks too refused under the pretext of keeping clients' information confidential. "Some banks said that giving out such information would amount to breaching their clients' trust. Now see who has shattered whose trust," said Mishra. In April 2016, Mishra then moved the appellate authority at PNB, alleging that the bank's information officer was covering up for the country's biggest loan defaulters. "I cited a reference from a case in the Supreme Court (RBI vs Jayantilal Mistry), in which the court had given directives to pass on information of the nature I had sought from PNB. However, my appeal was dismissed a month later," he said.
Sinking India in debt

Mishra said he sought this information from banks as part of his larger mission to rid the country of costly foreign funding through a PIL before the Nagpur bench of Bombay High Court.
"There is very little transparency in foreign funding. Because of such funding, the country and, by extension, every single citizen is in debt. I wanted to know who was misusing all the money that citizens deposit in banks. If the biggest loan defaulters were to clear their debts, the country would have enough money and would not need to resort to foreign funding," he said. "I have been asking for a white paper on foreign funding and, hence, had moved the court. I want the government to free us of expensive foreign funding," he added.
Mishra now wants the Reserve Bank of India (RBI) to take action against the concerned PNB officials who withheld the crucial information. "There is possibility that senior officials' were involved. I don't know if there was a conspiracy in refusing to part with information that would expose corruption. I have written to the RBI to take action against PNB officials in eight days," he said.