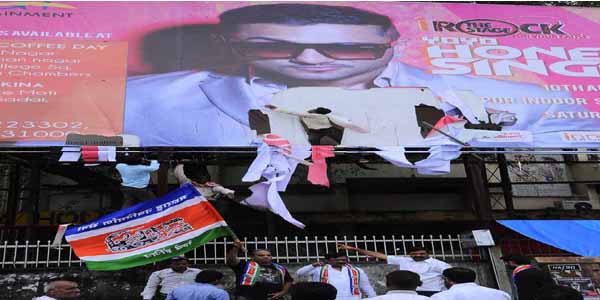 Nagpur News: If report are to be believed, much awaited  Honey Singh's concert in Nagpur city is in trouble and even has been cancelled thou organizers have not confirmed it yet.
According to sources MNS, beside  Shiv Sena and other  activist has  opposed rapper Honey Singh's concert in city, has finally forced the divisional commissioner's office to cancel the programme. In a press release, MNS said the divisional commissioner's office had rented its indoor stadium on Koradi Road for a paltry Rs 2.79 lakh for the programme in violation of norms.
Citing Maharashtra chief minister Prithviraj Chavan's statement, they said that the stadium should be used only for sports activities. The MNS delegation met member secretary of divisional sports complex Jaiprakash Dubey on Sunday and demanded cancellation of the programme. After a discussion with divisional commissioner BV Gopala Reddy, Dubey cancelled the allotment of the stadium for the programme and accordingly it has been conveyed to the organizers too.
With less than 5 days to go for the concert it is unlikely for organizers to get a new venue and this may force them to call off the show..