HIV +ve patient refused to be admitted in GMCH casualty ward

Why are you people taking so much tension over an HIV positive patient? He may die eventually. It could be today or tomorrow! If we admit him, he will be occupying a bed which could be otherwise used for some other patient" said the Chief Medical Officer of GMCH to the relatives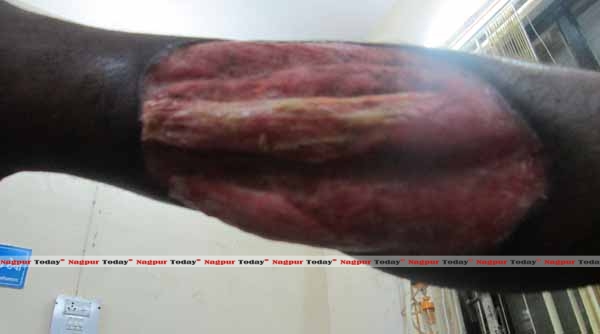 Nagpur  News : How inhuman and dispassionate does some professional become as the time goes by. Normal feelings, empathy, care and concern seem to have diminished from the hearts and minds of Doctors in Government Medical College and Hostel.
This was witnessed in a recent incident that occurred at GMCH on July 17, 2014.
An HIV+ve patient who was taken to the Government Medical College and Hospital (GMCH) on Friday with the hope of getting pity, mercy, empathy and treatment was thrown out of the hospital. The attending doctors refused to admit him only because he was an AIDS patient.
The patient had serious wounds on both his legs and was in unbearable pain. He was literally pleading to the doctors to help and give him treatment, but the merciless doctors just bandaged his legs and gave him a prescription and told him to leave the hospital. The patients was going from pillar to post from 3:30 pm to 11:30 pm but failed to obtain pity, mercy and empathy from the doctors. The patient was sent from one department to another but was not being admitted. The administration never bothered about his plight nor cared about his pain. They refused to treat him in the hospital. This case occurred in the casualty ward of Government Medical College and Hospital.
The patient Sandeep (name changed to protect his identity) aged 35 years and a resident of Gaddigodam came to know that he was HIV positive in 2007. He was getting his treatment for HIV through the ART Centre of IGGMC. Few days ago, he developed wounds on both his legs. His CD4 and Hemoglobin level had plunged very low. This in-turn had caused unbearable pain to Sandeep.  Sandeep went to GMCH on July 17, 2014 in the afternoon around three o'clock. Since then, he has been waiting patiently seeking help from all and sunder but to no avail.
Few relatives who accompanied him requested and pleaded with the doctors to admit him to and to provide treatment in the ward, but the Chief Medical Officer present at that time was adamant and made statements that would put any decent doctor to shame. The statements which he made were not at all expected from the Doctor. According to the relatives the CMO told the relatives that "Why are you people taking so much tension over an HIV positive patient? He may die eventually. It could be today or tomorrow! If we admit him, he will be occupying a bed which could be otherwise used for some other patient" said the Chief Medical Officer of GMCH to the relatives.
Sandip spent the Thursday night in the open area in front of a medical shop in the GMCH premises since he was thrown out of the hospital. From 3:30 pm to 11:00 pm, Sandeep and his relatives were continuously trying to get a bed in casualty ward and treatment for him but failed to get the same. This is not the first time that such an incident has happened. One month before, in June 26, 2014 too, Sandeep had gone to GMCH for a similar treatment. Then too he received the same treatment.
If the patient is HIV infected then immediate treatment is needed. By contacting ART Centre he would have been admitted but if he is still being denied treatment.  Then duty doctors and staff who were present at that time will have to give written explanations says the Dean of GMCH Dr. Rajaram Powar.
….Puja Singh