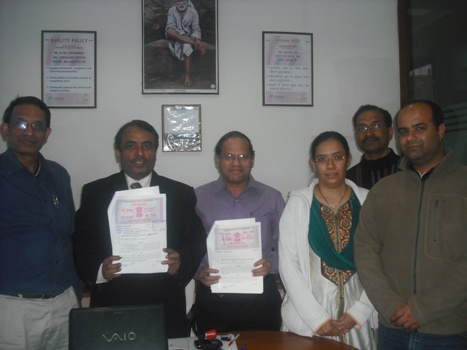 Nagpur News.
Government Medical College (GMC) in Nagpur would soon be refurbished with additional medical equipments worth Rs 85 crores as it has entered into an agreement with Delhi based Hindustan Life Care (HLC) which would act as the procurement agency for the college.
The concerned deal has been sealed as a part of implementation of 2nd Phase of Prime Minister Health Security Scheme. A memorandum of understanding (MoU) to this effect has been signed between Nagpur GMC Dean Dr. Rajaram Powar and HLC Vice Chairman Manku on February 8.
Talking to Nagpur Today Dr. Powar informed that HLC would be the procuring agency for obtaining medical instruments & equipments. It would also look after the maintenance of purchased equipments over a period of 5 years. He said that the construction work of the first phase of trauma centre at GMC is underway at massive pace and would be completed soon. State government had sanctioned Rs 10 crores for the construction of the trauma centre. GMC has also sent proposal to the state government for the recruitment of 400 fresh staff for the new trauma centre.
He added that Rs 17.35 cr would be spent on upgrading trauma unit in the second phase.  This apart, Rs 15.85 cr has been sanctioned for super specialty, Rs 2.60 cr for surgery, Rs 16 cr for Modular-OT, Rs 12.98 cr for radiography department and Rs 5.65 cr would be incurred on upgrading the medical lab.  The nodal agency HLC would execute these funds for procuring the assets under the concerned heads.
Dr. Powar exuded confidence that the latest move would speed up the upgrading works at GMC. Apart from Powar, Dr Pradeep Dixit ,vice Dean, GMC, Dr Kishore Taori, Dr Shrikant Matkari and Dr. Barsagade were prominently present during the press briefing.