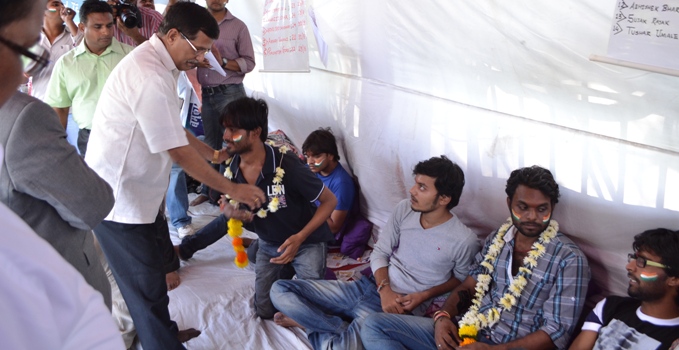 Nagpur News:
A high-voltage drama was witnessed at the Samvidhan Chowk (RBI Square) where the engineering students were observing an indefinite hunger strike for their various demands. Pro-Vice Chancellor Mahesh Yenkie, Registrar Ashok Gomashe, senior academician Baban Taywade and Adv Rajesh Bhoyar had come to Samvidhan Chowk as the students were to end their hunger strike today for peace talks. The University officials had arrived in the afternoon directly from teachers' felicitation programme which was held in the morning at Gurunanak Hall.
The three top RTMNU officials were at the spot for peace talks but some students turned unruly and in the process, about 50-60 students mobbed their cars and did not allow them to move. The unexpected even left the officials surprised and shocked. Some students even heckled the officials and hit their cars with hands just to show their anger.
The hunger strike started on 23rd August was in its 14th day today. The supposed one month long agitation and hunger strike was ended today when Baban Taywade offered the fasting 6 students lime and orange juice. Initially 13 students were on fast but the bad health forced them withdraw from the hunger strike.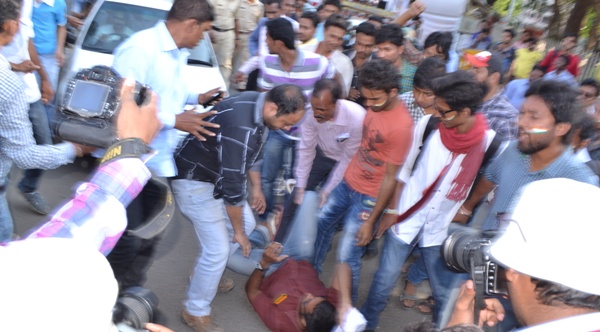 However, when the calm prevailed after the drama, Pro-VC Yenkie, while briefing the students said, "The notification on their demands will be issued in day or two. The students should trust the University and its system. Our policies are not against the students. The students should put their focus on studying," Yenkie asserted.
During the talks, the students welcomed the University officials on the dais. The students even asked some questions to the officials, who, too, answered to their queries. The peaceful situation witnessed some tense moments when one of the fasting students refused to take juice from the university officials. But after that everything went well.
After the roller-coaster of high-voltage drama, peace talks, ending of the hunger strike, heckling the Pro VC and Registrar finally pacified the students and left the place with bitter-sweet experience.
However, Senior Academician Babanrao Taywade stayed back to ensure students end hunger strike.
Earlier, in talks with students, Baban Taywade had assured the students that their demands will be looked into seriously and lawfully. All their apprehensions will be removed. The last date for engineering admissions has also been extended by 15 days.