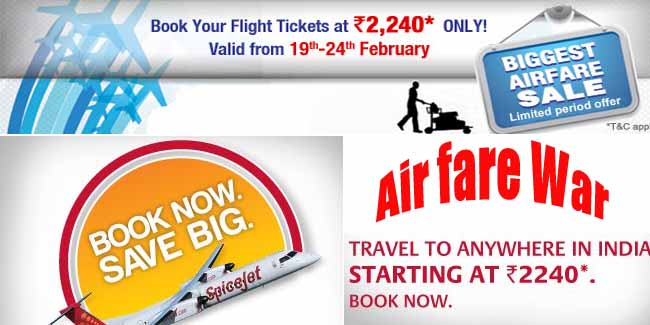 Nagpur News: This week has brought several signals in the Indian aviation market, and all point to the same conclusion: there ain't no signs of a long-term revival in the industry, despite some recent profit reports.
Yesterday,fare wars was initiated by Jet Airways, which has offered two million tickets with starting fares as low as Rs 2,250. The fare-cuts have been quickly matched by IndiGo and GoAir, and one can't see Air India ultimately staying away from the game.
Why would Kingfisher want to pay wages, or is this part of a long suicide dance before closure?
Question: Why has an airline (i.e. Jet) which consciously cut capacity to improve yields suddenly pressed the panic button and resumed an unwinnable fare war?
Yesterday, Kingfisher Airlines, which one thought was in mothballs, suddenly announced the payment of one month's salary to staff and even approached the regulator for a possible revival of the airline.
Question: Why would Kingfisher want to pay wages, or is this part of a long suicide dance before closure?
Earlier in the week, Etihad Airways informed the world that the much-touted tieup with Jet Airways for a 24 percent stake was not a done deal. In fact, it hinted that there may be no deal unless the offer was sweetened.
Question: Why would Etihad do this publicly when it could have whispered the same in Naresh Goyal's ears?
The obvious link to all these stories is the state of Indian aviation and its short-term future. The sector is not only not out of the woods, but may, in fact, be scheduled for a new round of blood-letting in order to keep its head above water.
The meaning of Jet's fare war is that it needs the cash flows. Since there is no chance of Etihad's money coming in any time soon, it has to find its own resources to survive.
The meaning of Kingfisher's sudden decision to pay one month's wages is to tell the world that it is moving towards formal sale or closure of its airline. Vijay Mallya has just done his deal with Diageo, and this will allow him to pay off his most important debtors—especially employees—failing which he will be permanently tied up in court battles.
He may still be tied up in courts (he has enough creditors to fill a football stadium), but if he wants to extricate his shares —now held by bankers and others —he has to pretend he is restarting the airline. Hence the activity.
However, let's be clear: Kingfisher is never going to fly again, at least on Mallya's wings. Whatever chance it had of surviving ended when the bankers told him to go jump, and the restart of fare wars will ensure that Kingfisher will never receive a fresh infusion of substantial funds to resume.
Even assuming Mallya suddenly discovers a bag of gold on the tarmac, there is no chance of the airline taking off because the macro trends are simply against aviation.
The recent return to operating profits by Jet and SpiceJet is temporary because the Indian economy is going to face slow growth over the next two years, and fuel prices are going to keep rising in order to reduce the oil companies' losses. Passenger traffic thus won't spike this year or the next. Nor will fares (evidence, the fresh price wars).
The government may be in no mood to keep throwing money at Air India, but as long as no decision is taken on euthanasia, the mere fact that Air India is still flying will depress fares. The government is unable to kill a dead duck like Scooters India (ever heard of their scooters in recent days?), so killing Air India is out of the question. Not killing Air India means slow poisoning of the whole sector.
A conspiracy theorist should thus see Jet's fare wars as an effort to ensure that at least Kingfisher does not return to the runway. If that happens, everyone will bleed profusely.