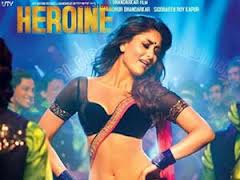 Banner– Utv Motion Pictures, Bhandarkar Entertainment
Status-Released
Release Date-21 Sep 2012
Genre-Drama
Producer-Ronnie Screwvala, Madhur Bhandarkar, Siddharth Roy Kapoor
Star Cast–
Kareena Kapoor…. Mahie Arora
Arjun Rampal…. Aryan Khanna
Randeep Hooda…. Angad Paul
Pooja Chopra…. Shaheen Khan
Shahana Goswami…. Bengali Actress
Ranvir Shorey…. Bengali Filmmaker
Shilpi Sharma…. Aryan's Wife
Helen…. Shahgufta Ali
Duration: 2 hours 28 minutes
Heroine tells the story of Mahi Arora (Kareena Kapoor)
Heroine tells the story of Mahi Arora (Kareena Kapoor).Wrong lead protagonist-Check. Cheating lover-Check. Clinical depression-Check. Manipulative friends-Check. Homosexuality-Check. Rising and then eventually falling and slowly fading in career-Check.
These are the main ingredients of each and every Madhur Bhandarkar film. And 'Heroine' is no different really. After giving an insight into the world of Fashion, Page 3 media and Corporate world, Bhandarkar delves into a territory which is perhaps the most familiar to him .
Bhandarkar narrates the story of a shining actress Mahi Arora (Kareena Kapoor) who seems to be slowly losing her sheen all thanks to her personal life and erratic mood swings. Heroine tells the story of Mahi Arora (Kareena Kapoor) – the reigning queen of Bollywood. Mahi is in love with the star Aryan Khanna (Arjun Rampal), who is married, but separated from his wife.
Mahi wants commitment but Aryan is not ready.Mahi becomes needier as he refuses to acknowledge their relationship in public. Finally, she ends up miffing a star wife at a party and being dumped by Aryan. Mahi loses her standing in the film industry and gets completely distraught. But she soon picks herself up, hires a new PR, finds a new boyfriend (Randeep Hooda) and tries to rebuild her career and life. But suffering from bipolar disorder doesn't make things easier for her.
She continues to struggle to find her way through the manipulative and dirty world of Bollywood (as is made just way too obvious by the director). The final nail in the coffin comes when she becomes desperate and uses a cheap publicity stunt to make her movie a hit.On the face of it, Heroine had great scope to be developed into an interesting story. But director Madhur Bhandarkar gets confused – he wants to reveal the big bad world of bollywood to the outsiders and tell a human story at the same time.
There are lose references to real controversies – a star who edits his co-actor's role, female actors partnering with a businessman to buy an IPL team when their careers are going downhill, a leaked MMS which brings ample publicity to a couple, a gay designer who is known to design saris and is a close friend to some top female actors, a star wife who decides which heroines his star husband will work with after a recent linkup and so on.
The director entertains you by giving you a guessing game. You get busy trying to find out whether a character is based on a certain star or not. But that's where the fun ends.Bhandarkar makes sure he incorporates all the clichés – some that he has already used in his previous movies – a gay friend, a bisexual director sleeping in return for a favour, MMS scandal, heroines dating cricketers, struggling female actors sleeping around with big stars to rise in their career, philandering male stars and their manipulative star wives.
Now that is the image of Bollywood in the eyes of the common man anyway!Bhandarkar simply affirms the stereo types instead of adding a new dimension or depth to these impressions. Cutting the paraphernalia and sticking to Mahi's story would have done the film a whole lot of good.
The saddest part is that everything comes across as just too wannabe. Characters forcefully use words like babes, dude, bro, bbm etc. Bhandarkar plants a so-called bold element by showing a sexual encounter between Kareena and her female costar (Shahana Goswami). Sensational, yes…aesthetically acted out, yes…but is it important? Well, it could have made for a great plot line, but it ends up being totally irrelevant to the story.
There are some good performances that give you a glimmer of hope. Arjun Rampal as the confused star and Randeep Hooda as the loving and caring cricketer give mature performances. Divya Dutta as Kareena's PR person is decent too.Almost all the characters though are seen puffing a cigarette and gulping down alcohol giving the impression that every person in the media – journalist, actor and PR – smokes and drinks all the time!Does 'Heroine' work?
Yes, but only because of Kareena Kapoor. From doing the raunchy act in 'Halkat Jawaani' to the scenes where she is battling depression and popping pills, to the I-don't-care-attitude of a confident actress, Kareena makes Mahi memorable and lovable.
Go to watch the Movie for Kareena only.
Our Rating-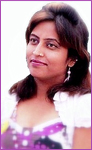 Suhani Vanjani