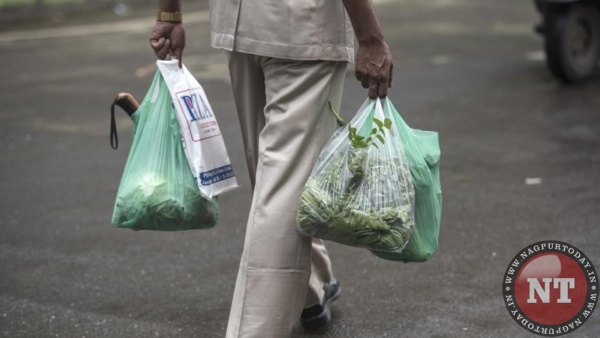 Dipen leads a delegation of plastic manufacturers to CM's office pleading for 3 months' postponement of plastic ban.
The state-wide plastic ban, including carry bags and thermocol by the Devendra Fadanvis government, will at a conservative estimate, result in a loss of up to Rs 15,000 crore and nearly 3 lakh job, says the plastic manufacturing industry.
In Nagpur, where an approximate 250 to 300 big and small manufacturers are located the job loss would be at least 15,000 and will affect over 60,000 people who directly depend on plastic manufacturing for their livelihood.
"Across Vidarbha, the number of plastic manufacturers is 500 +. Each company employs at least 20 to 30 persons. Also upstream suppliers and downstream customers will also get affected and will have to close down. This ban is going to create havoc, the government is just not realizing it!" Says Harish Mantri Secretary of Vidarbha Industries Association Secretary.
Pune closed today due to plastic ban
Mantri reports that since the ban was implemented police have been targeting small shop keepers and traders only. Kirana owners, jewellery shops, general stores, gift shops…everyone across the board is living under fear of police raids. They are creating terror and panic among the small shopkeepers. Big shops/ malls, well known big jewellery showrooms are not being raided because they have access to 'higher ups' and will immediately call and complain."
Nagpur market too will close tomorrow if government does not reverse this ban, says Mantri.
"The ban imposed by Maharashtra from Saturday has hit the industry very hard and the plastic industry is staring at a loss of Rs 15,000 crore, leaving nearly 3 lakh people jobless overnight," Plastic Bags Manufacturers Association of India general secretary Neemit Punamiya told media on Sunday.
"Plastic is the most viable and durable option for packaging and carrying, it has no real alternative" opines Dipen Agrawal, President of Chamber of Manufacturers and Traders.
"Just imagine when a economically backward family goes Kirana shopping, what will they bring their groceries in during this rainy season? If they carry paper bags or cloth bags and it rains, all the stuff will get ruined, can they afford this loss?
Nearly 2,500 members of the association have left with the no option but to shut shop following the ban, he added and termed the ban as "discriminatory"
While retailers across the state – many are situated in Nagpur – have said heavy fines for violating the bank will make them financially unviable and force them to turn away many customers, consumers have complained of inconvenience, and wondered whether the ban makes any sense.
The civic authorities have imposed a fine of Rs 5,000 for the first-time offenders and Rs 10,000 for the second-time offenders. Those who violate the ban for the third time will face a fine of Rs 25,000, along with a three-month imprisonment.
"After the first fine is collected, the gates open for blackmail and bribery… pay us or we will collect Rs. 25,000/ from you!" Small shopkeepers are being told.
Failure of Municipal Corporations being covered up by the ban
" Ensuring that garbage is properly segregated and recycled is the responsibility of various Municipal Corporations. Also ensuring that garbage bins on roads are cleared periodically is also their duty. They are failing to do so leading to so called 'plastic pollution'. And small manufacturers, traders, shop keepers and even consumers are paying a heavy price for this." Says Dipen Agrawal.
Rohini Patil runs a well known Gift Shop in Wardha called Card Magic. She says as an alternative to a Rs. one or one and half plastic bag, paper bags or cloth bag she is being offered paper bags worth Rs. 10/ to Rs. 15/ and cloth bags which are more expensive.
"We have a margin of max. Rs. 5/ per card, how can we not charge for the paper bag?" She asks.
Economists say that there is a big possibility that business enterprises that have taken loans from banks, will fail and turn into into NPAs.
So, in effect this ill thought out ban will lead to more banking distress and further unemployment; not to mention torture and harassment of small shop keepers and problems to customers.
Pushpa Bai and Vandana, maids doing house work wonder how they will cover their leaking shacks without using plastic this monsoon.
Does Fadnavis have a reply for this.
Sunita Mudaliar
Executive Editor