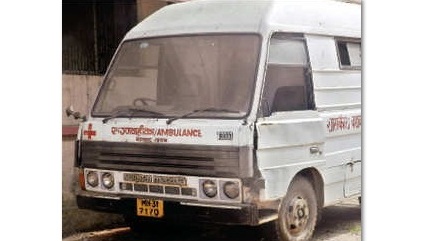 Nagpur News.
The emergency transportation services at Government Medical College and Hospital (GMCH) has been severely plagued by ill maintenance leading it to collapse to ground zero. The ambulance which was started with much applause by Congress Vice-President Rahul Gandhi during his visit to Nagpur on September 24 this year to deal with any eventuality is literally in scatters for want of maintenance. One of the ambulances, which was recently pressed into service is now stranded at a corner in GMCH premises.  It is learnt that many such ambulances are creeping to reach the dead end.
Authorities ignore condition
Most of the ambulances have broken windows and doors. Moreover, an ambulance is without engine and lying with only chassis. The GMCH authorities have turned a blind eye towards the deteriorating health of ambulance services while the patients are left to suffer.
The Maharashtra Government and even some NGOs provided ambulances to GMCH in order to serve citizens in emergency situations. Moreover, whenever a VVIP visits the Orange City, a GMCH ambulance is part of the cavalcade of that VVIP to handle any medical emergency if it arises during the visit. This often hampers the emergency services for the patients.
Brand new vehicle for Sonia's visit
Interestingly, the GMCH authorities inducted a brand new ambulance equipped with all the sophisticated medical tools to deal any emergency situation with ease and comfort. However, the sources said, the new ambulance is not for patients but for Congress President and UPA Chairperson Sonia Gandhi who is visiting Nagpur on November 21. She is also scheduled to visit the Super Speciality Hospital of the GMCH.  The ambulance would be in the service of patients also, is the only hope of the Nagpur citizens.
Size mismatch
The GMCH authorities have stationed the new ambulance at the Hospital's gate. However, it appears, the authorities in the haste, have arranged the ambulance which is very small. Even the patient will be put to discomfort as he or she would not be able to spread legs owing to small size of the ambulance. Moreover, the speed of the ambulance is too less as compared to other big ambulances, sources said.