Nagpur: HCG NCHRI Cancer Center and HCG Foundation has organised a very unique art exhibition. This exhibition is being held in Hospital Gallery as well as Swasti-Contemporary Art Gallery. Its purpose is to collect money for children who are suffering from cancer. Famous Neurologist and Orange City Ambassdor Dr Chandrashekhar Meshram inaugurated the exhibition. This exhibition will be open till April 2018 and at 9 am to 6 pm.
Speaking on the occasion Dr Suchitra Mehta, Director and Head Psychologist-HCG NCHRI said, "Cancer can be treated with full medical support by adopting positive attitude and with the help of everyone the patient can fight the deadly disease bravely. Therefore, it has two objectives. First is Art Therapy Cancer where patients' supportive care is a proven method which helps to convince patients. It is found that even after cancer, they can live life better and their Lifestyle can change. Second is this amount collected will help children suffering cancer."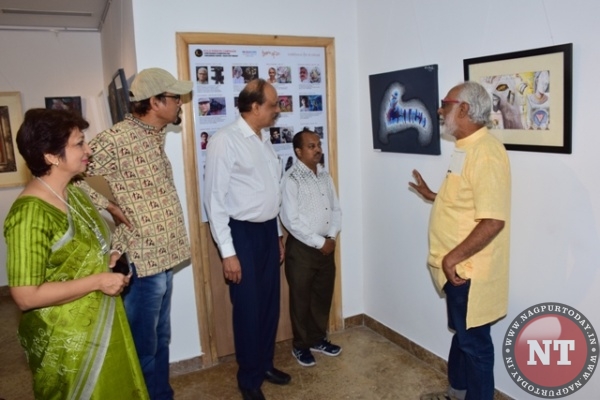 Dr Nishad Dhokate, Hematologist and BMT Specialist said, "Right from childhood suffering from cancer is a major cause of death related to non-infectious diseases in children around the world. Treatment of most cases of cancer in children is possible. But for many children and adolescents life-saving drugs are not available. According to the medical journal and Paediatric Encyclopedia, in India cancer is the 9th leading cause of death in children in the age group of 5 yrs to14 yrs."

The purpose of this initiative is to spread awareness about cancer in children and a help for treatment of deprived cancer pateints. The amount collected from the sale will be used in the treatment of deprived cancer patients. The famous senior artist Chandrakant Channa is the curator of this show and he has united 20 top artists from city who will showcase their art. He has been associated with the HCG NCHRI Cancer Center right from the beginning and is supporting their cause.