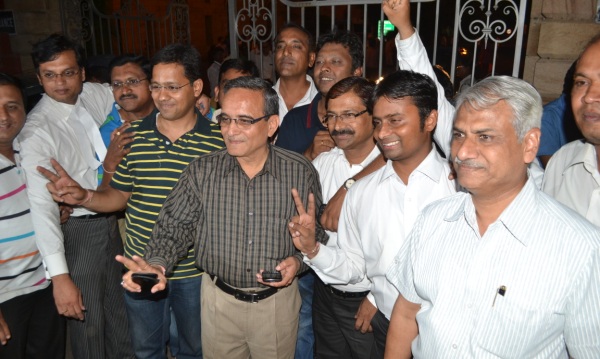 Nagpur News:
Adv Arun Patil will be the new President of High Court Bar Association (HCBA). Adv Patil won the election with a thumping majority of 899 votes against his rival Adv VG Bhamburkar who got 215 votes. Adv Patil's Father was also HCBA President in the past.
The Contest for the Vice President saw Adv A.D Mohogaonkar 807 votes and silent campaigner Adv A.P Thakre 515 votes winning the Vice President posts defeating their rival candidates Adv RP Joshi and Adv Suresh Sable who managed 492 and 235 respectively.
Elected Vice president AP Thakre's while speaking to NagpurToday said "the win is a joint team effort and love of members of Bar,will work hard for the welfare of the legal fraternity.
The Secretary's Post was bagged by Adv Shradhanand Bhutada with 623 votes while his opponent Adv Rahul Kurekar managed 484 votes it was a keen fight between both youngsters.
Four cornered Contest for the Post of   Joint Secretary had Adv S.R Bhongade taking the winner's seat. He got 589 votes. His opponents managed Adv SD Zoting 389 votes , Adv MV Bhute 68 , AW Paunikar 81votes.
The Treasurer Post went to Adv D.S Patrikar 430 votes his nearest rivals Advocates VK Paliwal 412 votes and YJ Soni 255 votes. Adv A.D Dangore has become the Library Incharge with 625 votes.
The Executive Body members elected are Advocates P.V Navlani,V.R Thote, Archana Ramteke, G.P kale, B.J Lonare, N.L Chauhan and D.V Mahajan.
The Election committee was comprised of Advocates Chairman B.G kulkarni, P.D Meghe, S.Y Deopujari, P.Chandekar and N.A Padhye.
The voting for the HCBA office bearers were held on Friday 3 MAY 9.30 am to 4.30 pm. The results were declared there after at 7 pm in the evening.