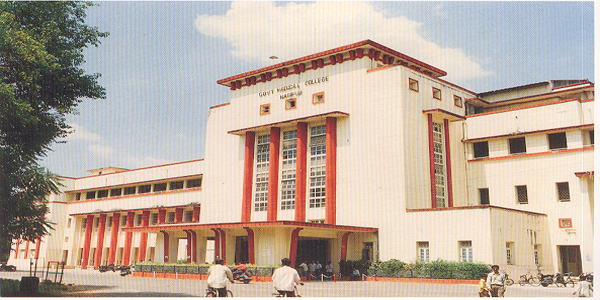 Nagpur News : In response to the PIL filed by the Indian Medical Association"s president here, Dr Harish G Chandak against rejection of proposed increase in post graduate seats at the Govt Medical College, Nagpur by the Medical Council of India -(MCI), Justice A P Lavande and Justice Arun Chaudhari, at the high court, have issued notice to the respondents – secretary, MCI, State medical education secretary, registrar, Maharashtra University of Health Sciences and the Dean, GMC, Nagpur, to show cause in reply to the allegations and the prayers made in the PIL , by January 29 next along with note of caution that on the next date, irrespective of the respondents filing or not filing submissions , the court would be considering the petitioner-Association"s prayer for interim direction to the MCI to complete the process of inspecting the GMC keeping in mind its proposal by January 31, 2013 or within the period to be stipulated by the court.
It has been stated in the petition that the GMC, Nagpur, had submitted on May 30, 2012, application to the Central government for permission to increase in post graduate seats in the subjects – Orthopedics – 1 to 8 seats, Forensic Medicine-2 to 5 seats, Skin and Venerology- 1 to 4 seats and Radio diagnosis – 4 to 7 seats, along with all required documents.
There is no dispute about infra-structural facilities in the college for this increase.The documents and Inspection fee amounting to ` 8 lakh has been accepted by the MCI.on June 7 last year. Though, it is mandatory to intimate rejection in 30 days, the MCI just sat tight over this application.
On January 7 last, the GMC received letter of December 28, 2012 from the MCI, informing that its application will not be processed because of the deficiency that the letter of consent of affiliation from the university was submitted after the last date.Though, the college submitted appeal on January 8 last, that elicited no response. If the inspection process is not completed by January 31 next, 13 prestigious seats will be lost for the academic years 2013-14 and 2014-15.Hence, in this issue larger public interest is involved.
The petitioner has prayed for quashing the MCI"s decision of the MCI not to process the GMC"s application for increase in PG seats. Advocate B G Kulkarni appeared for the petitioner-IMA. G P Nitin Sambre accepted notice for the State and the Dean, GMC, Nagpur.