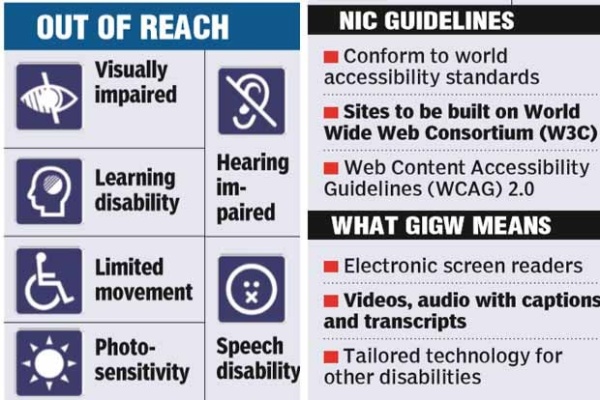 Mumbai: The Bombay High Court last week directed the state government to update all its websites, make them disabled-friendly and file a status report in three months. The court was hearing a Public Interest Litigation filed by NGO, Disability Rights Initiative, seeking direction to ensure providing universal accessibility to government websites to people with disabilities, on an equal basis with others, in accordance with the convention on rights of persons with disabilities.
Advocate Kranti L C, appearing for the petitioners, told the court that even today, certain government websites are difficult to access for those who are disabled, including the visually challenged. Kranti explained to the court that when a blind person/lawyer is accessing the Bombay High Court website, he may not know that there is some new update popping on the website, unless it blinks or there is some sound.
Kranti also told the court that it is the responsibility of the state government to update all its websites to make them user friendly for people with disabilities. Kranti also informed the court that the government bank online services are in Hindi and English. To that Acting Chief Justice Naresh H Patil said: "It should be in regional languages also". The court also said that doors of the banks are open for all and now, the doors are online.
Kranti told the court that when certain videos are played on government websites, for example those during swearing-in ceremonies, there should be narratives for those with disabilities.
Justice Patil said steps should be taken by the state government to comply with the guidelines issued by the central government in 2009 to provide universal accessibility to government websites to persons with disabilities. The court also said the state government and local bodies like the zilla parishads and gram panchayats shall upgrade their websites according to the guidelines.
The court further said that after upgrading the websites, the government shall take a certification (of compliance with guidelines) from the National Informatics Centre of the Union government. The court asked the State Bank of India to make its website available in Marathi as well.