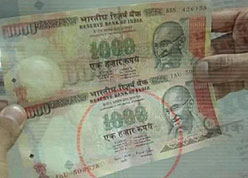 Nagpur News: Is Nagpur becoming a hub for Bangladeshi infiltrators? Has a "sleeper cell" got its shape in the Second Capital City? Is the clandestine business of circulating fake Indian currency and other foreign currencies being run from the Orange City? Are the Nagpur police and Intelligence agencies unaware of all these criminal activities? If the answer to all these questions is affirmative then the Nagpur is in deep trouble and, only a timely and strong action could avert the ominous danger.
The Nagpur police, at least, must be aware of a clandestine infiltration or say human trafficking of Bangaladeshi youths by luring them with handsome jobs. Once in Nagpur, the "handsome job" provided to the Bangladeshi youths is to indulge in illegal activities on the directions of their "Master." The Bangladeshi "guests" are provided with shelters in the form of rented rooms. However, the landlords are totally in dark about their activities. And so are the police.
Moreover, the possibilities of any sabotage or a terror attack could not be ruled out. The extremists, who traffic the Bangladeshi youths, could go to any extent to give a deadly shape to their nefarious designs. And the Bangladeshi youths could come handy for the "Master" in his ulterior motives of terror attack or playing with the Indian economy by circulating the bogus currency in large number.
Nagpur police had arrested two Bangladeshis Mohd Amir Hussain Mohd Kaymoddin (37) and Ilyas Shoddar Saikul Shoddar (18), natives of Gojriya, District Madarpur (Bangladesh) on August 1.  Both the infiltrators were staying in Karim Sheikh's house in Bada Tagbagh since 30-45 days. Their "Master," named Chand, frequently visits Nagpur and also stays at Karim Sheikh's house. Last year, too, he stayed at Karim's house for 3-4 months. The arrested duo made a deal with Chand to exchange Bhutan's currency valued at 2 lakh with Rs 70,000. However, the hardcore criminals played a trick. They made a round bundle with waste paper and pasted Bhutanese currency over it as if to show the bundle is full of Bhutanese currency. Both the Bangladeshis were trying to sell the Bhutanese 2 lakh for Rs 70,000. At the same time they were arrested by Sakkardara police.
A dispute is raging over their arrest. Initially, Sakkardara police were hesitating to register an offence against them, the sources said. Both the Bangladeshis said that Chand brought them to Nagpur by promising them jobs. Instead, Chand handed over them the Bhutan currency to sell it at Rs 70,000. If the statement is considered true, then Chand could be a big fish in running of counterfeit currencies of various countries major being the Indian currency.
However, the most surprising aspect all these dubious activities is that police and Intelligence agencies are in total dark or in a deal.