Haryana governments praise for veil (ghoonghat) triggers row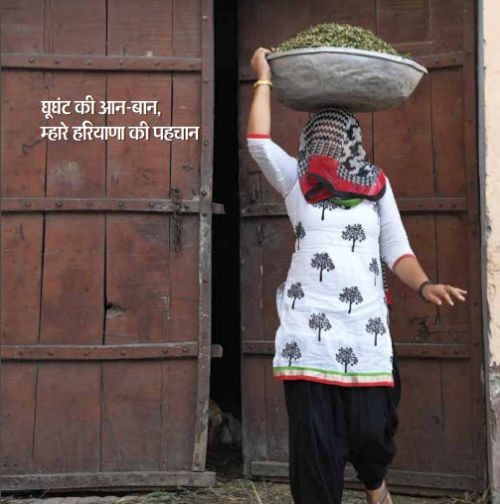 In a span of two years, the Haryana government has gone from its 'beti bachao, beti padhao' campaign for women empowerment to beti chupao by advocating that women in veils are the pride of the state.
A photo caption in a Haryana government magazine for farmers saying that the veil (ghoonghat) was the "identity of the state" has invited criticism from the opposition.
The March 2017 issue of Krishi Samvad, a supplement of the Haryana Samvad magazine, published by the state government, carries a photograph of a veiled woman carrying cattle feed on her head.
The caption of the photograph says that the "ghungat ki aan baan, mhare Harayana ki pehachan (pride of the veil is the identity of my Haryana)."
Reacting sharply to the caption, Congress spokesperson Randeep Surjewala said it reflected the regressive attitude of the ruling BJP government.
The leader of the opposition in the Haryana assembly, Abhay Singh Chautala of the Indian National Lok Dal, said the state government should be working towards empowering women.
Chautala said instead of appealing to all to shun the practice of covering their face, the government was promoting backward thinking.
"While on the one hand they (the BJP) boast of programmes such as beti bachao, beti padhao; for the betterment of girls, on the other hand a government booklet attempts to promote the practice of veils, which is unfortunate, he said. The government should, in fact, start an awareness drive to discard the veil and empower women, he added.