Hardik Patel stops water intake as fast enters 7th day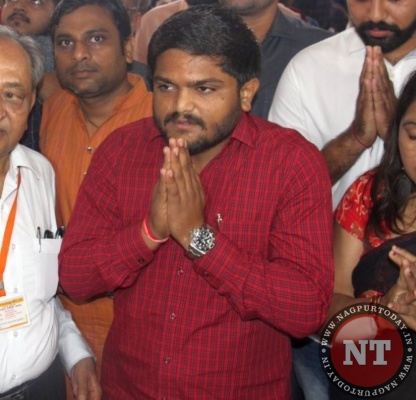 Patidar leader Hardik Patel's indefinite fast demanding reservation for the community in jobs and education entered its seventh day today as the young leader announced that he had now stopped taking water.
In a statement, Hardik said that though he has stopped taking food and water, he will continue his fight till he attains victory by walking on the path of Mahatma Gandhi.
Several Gujarat Congress leaders, including Kanu Kalsaria, former state Congress president Arjun Modhwadia and MLA Vikram Madam, today met Hardik and extended their support.
After his meeting with Hardik, Modhwadia took a swipe at Prime Minister Narendra Modi and the ruling BJP, saying that if the government could hold talks with separatists, then why not with Hardik.
"I request the Gujarat and central governments to hold talks with Hardik and find a solution. If our PM can go to Pakistan to meet (former PM) Nawaz Sharif, if talks can happen with separatists, then why not with Hardik?" Modhwadia questioned.
Kalsaria, meanwhile, alleged that police was stopping people from coming to Hardik's residence.
The 25-year-old quota spearhead had launched his hunger strike on August 25 on the third anniversary of his mega pro-quota rally in Ahmedabad that had turned violent.
He is demanding a loan waiver for Gujarat farmers and inclusion of his community in the OBC category to facilitate reservation for its members in government jobs and educational institutions.
Hardik launched his fast from his residence after authorities in Ahmedabad and Gandhinagar refused to allot a venue.