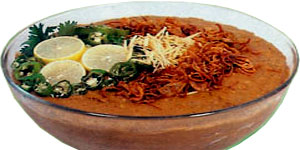 Haleem is a sweet stew popular in the Middle East, Central Asia, and the Indian subcontinent.
Haleem gets its lovely sticky consistency from constant stirring, so give yourself up to the hypnotic cooking and enjoy the aromas as you do.
You will need to begin this recipe one day ahead.
Cooking Time          : 3 hr(s) 20 min(s)
Ingredients Required 
Meat Boneless (Beef/Mutton/Chicken) 1 Kg
Ginger Paste 1 Tablespoon
Garlic Paste 1 Tablespoon
Onions (Medium size, finely chopped) 1-2
Wheat ½ Cup
Barely 2 Tablespoon
Dal Chana ½ Cup
Dal Mash 4 Tablespoon
Dal Masoor 3 Tablespoon
Dal Moong 3 Tablespoon
Ghee/Oil 1 Cup
Any Readymade Haleem Recipe Mix 1 Cup
Cooking instructions:
1.Soak all washed and clean dals (lentils), barley and wheat for at least 1-2 hours.
2.Add all soaked ingredients in 3-4 glasses of water and boil on low flame under tender.
3.Separately heat Ghee/Oil , add in meat , ginger, garlic and the masala recipe mix.
4.Keep stirring. Then add one cup of water.
5.Cook until the meat is tender.
6.Now add all the boiled dals (lentils) in the meat and coarse the mixture with a wooden spoon or blend in the blender.
7.Add 2-3 glasses of water and cook on low flame for 20-3- minutes and stir frequently.
8.When Haleem is ready, fry onions in the remaining ghee/oil till golden brown, top it on Haleem and cook on low flame for 5-10 minutes. Then remove from flame.
9.Your delicious and aromatic Haleem is ready.