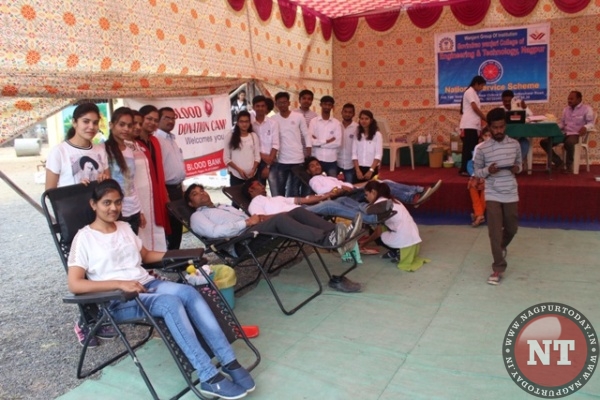 Nagpur: Under the leadership of Adv. Abhijit G. Wanjari, Secretary, Amar Sewa Mandal, National Service Scheme (NSS) cell, Govindrao Wanjari College of Engineering & Technology, Nagpur organised "NSS Annual Camp-2018" at Z P Primary School, Chikna Village, Nagpur from Feb 6 to 10. The programme was organised under the guidance Dr Hemant Sonare, Director, Wanjari Group of Institutions, Nagpur.
During this camp various activities were organised, such as Swachhata Abhiyan at Chikna village and Salai-Godhani village, students' street play, lecture series of eminent speakers of societies. The 'Blood donation camp' was also organised in association with Life Line Blood Bank, Nagpur.
Pravin Sathawane, Camp Manager, LLBB and his team worked hard for the success of this camp. In this blood donation camp about 78 persons donated their blood.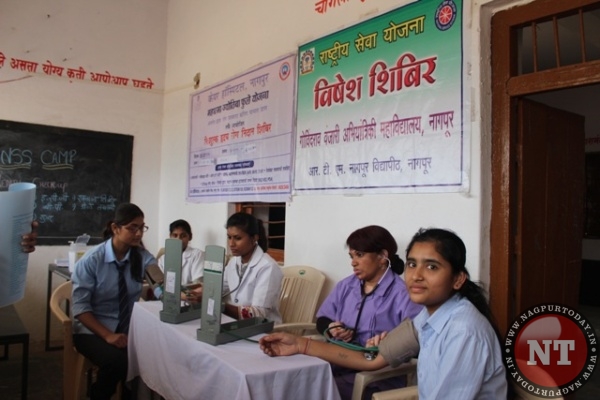 In the same event 'Free Eye Check-up Camp' was also organised in association with Contacare Eye Hospital, Dhantoli, Nagpur. Around 154 people visited this camp for the regular check up of their eyes. The 'Free Health and ECG Check up Camp' was an addition to this NSS camp which was organised in association with Care Hospital, Nagpur. In this camp about 180 people got their health check up done and about 35 persons got their Cardiographs. In this health camp Dr Manvendra Singh, Cardiac Surgeon, Care Hospital, Nagpur was prominently present for the ECG check up and Dr Nazma Qureshi, Dr Komal Shivlani, General Physician, Care Hospital, were present for Blood Sugar, BP, HB check up on 7 Feb.

Villagers appreciated the efforts and actively participated in all the activities of the camp. The guest lectures by prominent speakers on various topics for the NSS volunteers was also conducted during this camp.
Dr C L Khobaragade, NSS Programme Officer and team members who included S R Alone, D P Dongre, G R Agrawal and R M Dahekar worked for the success of this camp.