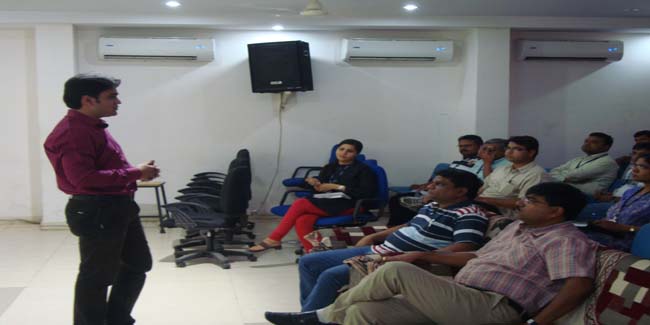 Nagpur News – 'Growth results from adopting new Belief's. Unless we change our belief's our behavior will not change. If behavior does not change then we will keep doing things the way we did and keep getting the same results' said Ashish Sharma, a resource Trainer said while conducting a lecture on 'Belief Systems' for the Teaching and Non-Teaching Staff of Tulsiramji Gaikwad-Patil College of Engineering & Technology, Mohgaon.
The lecture is part of a  series of lectures on 'Developing Communication Skills and Personality' organized by Elegance Finishing School for the  staff of TGPCET.
He further explained how a person's belief's are formed due to his experiences from childhood. These experiences  shape a person's thinking, his personality and influence his decision making capabilities in life. Change is constant, to  keep oneself abreast with the changing times, we need to replace our old belief's with new one's. He said new belief's can be adopted only if we have a strong reason behind doing so. He stressed on finding that reason and moving ahead in life.
Sharma further said 'Greatness can be cultivated'. Parents must tell their children 'You have capabilities to succeed in life. You are destined for greatness. Teach every child there are no failures in life only setbacks.'
The lecture was followed by a practical session where how to overcome old belief's and adopt new one's was taken up.  The session saw active and enthusiastic participation of all present. The participants got their queries on how to shed inhibitions and fears, answered from Mr. Sharma.
Prof. Mohan Gaikwad, Chairman, Gaikwad-Patil Group attended the sessions along with the Teaching and Non Teaching staff of TGPCET. Dr. G.K Awari, Principal of the college welcomed Mr. Ashish Sharma and presented him with a memento.
The lecture was arranged by Prof. Ashish Motwani, Head, Elegance Finishing School and Prof. Roshni  Trivedi proposed a vote of thanks.