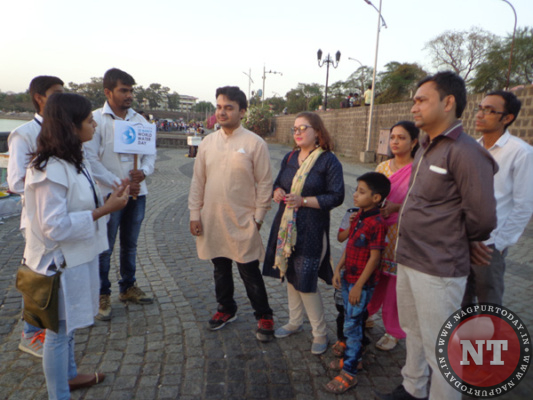 Nagpur: Every year the on 22 March Water is celebrated all over the world. In Nagpur too Green Vigil, a well-known environmental organisation of Nagpur, celebrated Water Day through public awareness campaign in Futala lake area. Under this campaign, members of the Green Vigil organisation explained to the citizens the importance of water conservation and passed on the message of water conservation through different posters and banners. Members urged the citizens to use water judiciously. Recognizing this campaign of Green Vigil Environment Society, United Nations has nominated this campaign of Green Vigil on its official website.
During this, Green Vigil team leader Surbhi Jaiswal, said that this year's Water Day theme is "Nature for Water". The purpose of which is, how water crisis can be tackled through nature and environment. As more and more forests can be grown, conservation of wetlands, balance in water cycle, protection of rivers and ponds. Citizens present were guided on this.
In order to make this campaign successful, the Green Vigil team's Surbhi Jaiswal, Mehul Kosurkar, Kalyani Vaidya, Bishnu Dev Yadav, Sheetal Chaudhari, Vikas Yadav, Digambar Nagpure, Amol Bhalme, Dadar Mohol, Yash Kedia, Karan Nashini, Arjun Agarwal, Happy Agarwal , Chirag Poddar, Neeraj Agarwal worked tirelessly.