Nagpur: Grandparents are special to every child and they share a special bond. Grandparents are a delightful blend of laughter, caring deeds, wonderful stories and love. To show the love and respect towards the grandparents, Green Heaven Kids celebrated Grandparent's Day recently in the school . Children welcomed the grandparents with melodious welcome song " dada Dadi Nana Nani welcome to our school" . All Children were very excited to perform for their grandparents. A few children of Jr. KG and Sr. KG performed a beautiful dance Dadi amma Dadi Amma man jao.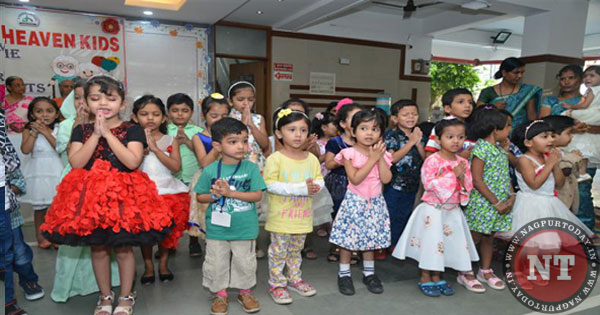 Thereafter, various games were organized for all grandparents and all of them truly enjoyed. All grandparents were enthusiastic & excited to participate in all games .It was a wonderful day indeed. Mr. & Mrs. Kolhatkar who are not only grandparents but the great grandparents i. e. pardada & perdadi were present on this special occasion. The program was appreciated by Mrs. Narmada devi Sharma & Kavita Sharma, Director of Green Heaven Kids .Grandparents shared their views about school . Prizes were given to all the winners of various games. The program was successful under the guidance of Mrs.Aboli Bidkar principal of Green Heaven Kids .All the efforts of the school for hosting such an exciting event was appreciated by Management members, all Grandparent & Parents.
Mrs. Sarita Dorairajan anchored the program . Vote of thanks proposed by Rupali Metangale.