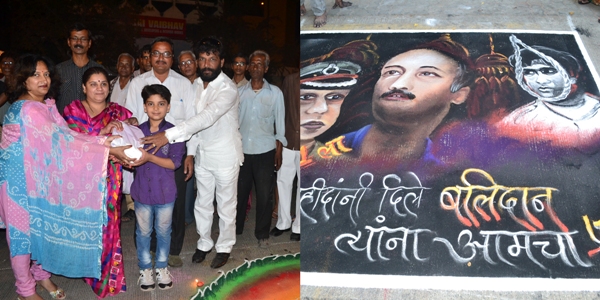 Nagpur News.
The Nandanwan Ward 47 Corporator Prashant Dhawad organized a grand Rangoli Contest as part of various annual people-oriented programmes organized by him. A musical programme on the eve of 26/11 terror attack in Mumbai was also organized to pay tributes to martyrs "Ek Shaam Shahidon ke naam" which made the audience go emotional and also inspirational.
The Rangoli Contest was organized in three groups consisting of Poster Rangoli, Sanskar Bharti Rangoli and Free Hand Rangoli on a big stretch of 750 metres on the road from Nandanwan S D Hospital to Shirbhate Hospital. The main attraction of the programme was big hoardings erected for paying tributes to departed souls in the entire Ward No. 47 and banners depicting historic events of the nation.
The programme was attended among others by Nagpur MP Vilas Muttemwar, South Nagpur MLA Dinanath Padole, Opposition Leader in NMC Vikas Thakre, and thousands of citizens of the Ward. Pranoti Prashant Dhawad distributed prizes to contestants in Rangoli competition. Prashant Aaskar, Atul Shrungarpawar, Ramesh Lanjewar, Chhotu Gurve, Vishal Bhagat, Prashant Supsande, Anup Dhawad, Laddhha, Amrut Jain and others worked hard for success of the programme.