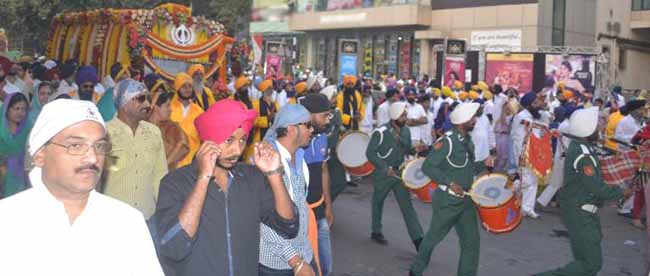 Nagpur News: On the occasion of 544th birth anniversary of Shri Guru Nanak Dev, a grand procession was taken out under the auspices of Shri Kalgidhar Satsang Mandal, Jaripatka on Sunday.
Various slogans like Wahe Guru Nanak Dev – Dhan Guru Nanak Dev – Sara Jag Tariya – Bole So Nihal Sat Sri Akal, were loudly chanted throughout the way.
The procession consisted of impressive floats with colorfully decorated Beed of Shri Guru Granth Sahib on a very attractive chariot at the forefront followed by floats of various gurus and various folk dances. As the procession passed through city streets, the devotees belonging to various religions, caste and creed gathered to welcome the floats of Gurus. They offered garland, dupattas, and bowed down their heads in respect. They sere served with bundi, Kachori, channa, fruits, sweets, kanah prasad and tea etc on the way.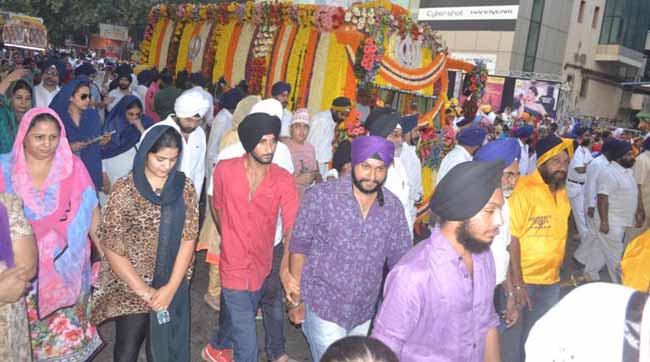 Devotees cleaned the way by sprinkling water. Behind the beautiful Jhanki of Shri Guru Granth Sahib, various floats on the life of Shri Guru Nanak Dev, Shri Guru Angad Dev, Shri Guru Amardas, Shri Guru Ramdas, Shri Guru Arjan Dev, Shri Guru Harirai Sahib, Shri Guru Harkishan Dev, Shri Guru Teg Bahadur, Shri Guru Gobind Singh, Maa Bhagwati and others were beautifully decorated.
The procession began at 1 pm from the Shri Kalgidhar Satsang Mandal's hall and went through Dayanand Nagar Square, Kukreja Nagar,Ring Road, Ahuja Nagar, Bhim Square, Barakholi, Indora Square, Kadbi Square, Mecosabagh and various streets of Jaripatka and finally culminated in the mandal premises in evening.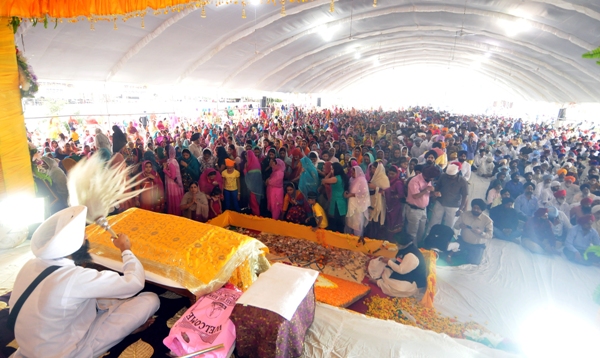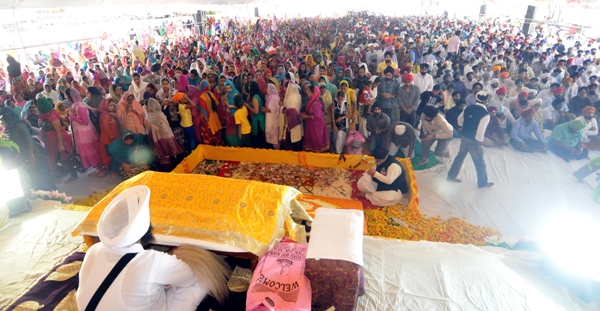 The procession concluded with aarti, Anand Saheb, stuti of eleven gurus, Maa Bhagwati and distribution of prasad. People from various parts of city and also from other cities participated in the shobhayatra. More than one lakh devotees participated in the prabhat pheris for the last 14 days. Advocate Mamtani thanked everyone who gave direct or indirect cooperation for grand success of the programme.
Various prominent persons participated in procession. Maharashtra EGS minister Nitin Raut, commissioner of police K Pathak, Uday Bhaskar Nair, corporators Suresh Jagyasi and Prakash Totwani, Chetana Tank, Jaiprakash Gupta, advocate L S Dewani, Raje Mudhoji Bhosle, Kunal Raut and others participated and obtained blessings of Guru Maharaj.