Govt workers' strike paralyses medical services in Nagpur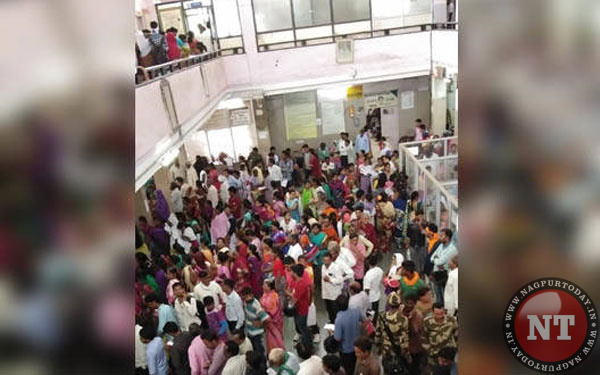 Nagpur: : Medical services at government hospitals in Nagpur have been hampered severely as around 90% Class-III and Class-IV government employees are on strike in the State. Tests at pathology labs and radiology centres have completely stopped and therefore long queues of patients can be seen at Mayo Hospital, Government Medical College (GMC), Daga Hospital, and Government Ayurvedic College (GAC).
The cobalt unit at GMC has also been locked. The patients admitted to different departments are facing problems in their treatment while many patients and their relatives coming from different districts of Vidarbha are returning disappointed due to the ongoing strike.
Around 4,000 employees from GMC, Super Speciality, Mayo Hospital, Kamgar Hospital, Daga Hospital, and GAC are on strike since last two days. MRI test of 55 patients were rejected and 200 patients were returned from Citi Scan departments during the last two days.
Only one nurse on duty at Daga Hospital
The Daga Hospital is a preferred hospital for expected mothers from BPL families. Around 40 to 45 deliveries take place at this hospital every day. There are 450 beds and 80 nurses to take care of the admitted patients. 79 nurses of them are participating in the strike and only one delivery intern is on duty since last two days. This has created critical health issues for admitted women patients. On Wednesday, only 11 employees were present on duty while all others participated in the strike.
Class-III employees and nurses provide valuable assistance to doctors during deliveries. The strike has affected the medical services severely and patients and their relatives are getting angry with the passing time. This may lead to untowards incidents at the hospitals.
No radiation for cancer patients
Around 80 cancer patients are given radiation at the GMC every day. There was already a waiting period of two months and now the strike has increased it further. 165 cancer patients have not got radiation since last two days. The cobalt unit is closed and therapy treatment have completely stopped due to absence of technicians.
At GMC, 49 operation had been scheduled for Tuesday but only 30 took place while 19 were postponed. Seven operations were done on emergency basis. Similarly, 61 operations were scheduled for Wednesday but only 49 could be done. 12 operation were postponed while 23 were done on emergency basis. A similar situation is prevailing at Super Speciality, where medical students have been roped in to provide services.
MCI team faces problems during visit
A team of Medical Council of India (MCI) on Wednesday reached the PSM department of Government Medical College for sudden inspection. No employee was present when the team visited the department. Doctors were found conducting administrative works in the GMC. The MCI team was to hand over experience certificates to doctors but it couldn't be done as certificates were not prepared and employees were absent. The MCI team faced many problems due to the strike.