Gori Tere Pyar Mein : Plasticky Portrayals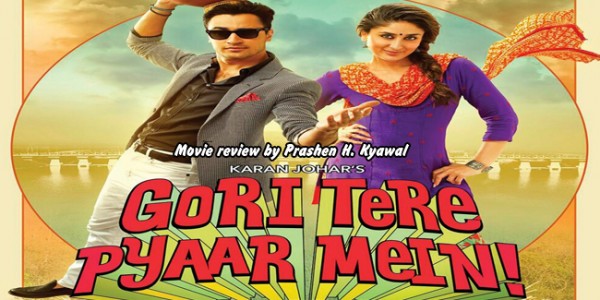 Cast: Kareena Kapoor, Imran Khan, Shraddha Kapoor, Anupam Kher, Isha Gupta (special appearance)
Director: Punit Malhotra
I would refer back to my earlier observation that the urban boys with lack life experiences and intensity of true emotions struggle to create good cinema.  Punit Malhotra is a special case in study here. He deconstructs and decodes the Bollywood rom com formats and formulae, laughs at them through the dialogs and scenes in his films but actually falls pray to same cliches churning out the same run of the mill potboilers.
GTPM is a film about Sriram, Venkat (Imram Khan), a spoiled, rick and careless boy (this time) from a south indian family (mall builders), is often criticised by his father as "Kala Dhabba" of the family. He studied abroad and has no respect for any Indian values, rituals and does not value his families Gandhiyan Heritage (who apparently seems ok to sell an ashram land wanted for an orphanage but otherwise preach about being a hero).
Sriram falls in love with a social activist Dia Sharma (Kareena Kapoor) who believes in fighting for system change and progress. This character proves that the new generation of socially active youngsters has made it to the literature and films now. We even get a reference to Anna Hajare in the dialog. Sriram as usual is not serious about anything and after courtship of a year or so, they breakup.
Sriram then tries to impress his family and be worthy of them by accepting to marry a girl from same cast and respected family aka a "prize catch". So what happens after that is a the story of the film.
Writers team of Punit Malhotra and Arshad Sayed tries to write a rom com with numerous references to earlier love stories by his mentor Karan Johar and other many Bollywood hits. He tries to ridicule them but uses the same old tricks to create the same old drab story. Film fails flat from writing stage itself.
Punit Malhotra as the Director could not bring any magic in execution of the already insipid screenplay. Editor Akiv Ali did not help either. Lethargic editing makes it drab n tad boring.
Punit's earlier film "I hate love stories" was on same premise of spoofing love stories while repeating same cliches. But it was at least somewhat bearable due to its setting in film industry, side characters, one great and few good songs. GTPM lacks in that also. Music directors Vishal-Shekhar could not deliver up to the expectations.
Good part about the movie is cinematography by Mahesh Limaye. The south indian family settings and later the Gujrati village brings in a different visual flavour on the screen. Production design by Shashank Tere is good.
Performance wise Imran Khan and Kareen Kapoor do their parts as usual. I am not sure why it was necessary to mention Kareena being elder than Imran. She still looks as young as she can. Most remarkable impression on me is by Shraddha Kapoor who emotes with her eyes. With her gorgeous Indian beauty, she is a delight to watch. I am sure she has a long and impressive career ahead in the industry if things fall in place correctly. Another good performance by Nizhalgal Ravi who plays Imran's father. Anupam Kher is repeats himself as Lateshbhai. I wonder who Punit has avoided to urge the "Thappad Ki Goonj" dialog when there was ample chance to use it. Vineet Kumar Singh is good too.
Overall, GTPM is old wine in new bottle. Has pasticky portrayals off everything. Even though preaches about taking things seriously, quiet does not get the point itself.

Recommendation : If you are diehard rom com lover and can deal with occasional boredom through the movie, this is a popcorn entertainer to watch. Otherwise just skip it. But yes, otherwise this is clean family film, if you want to know that.