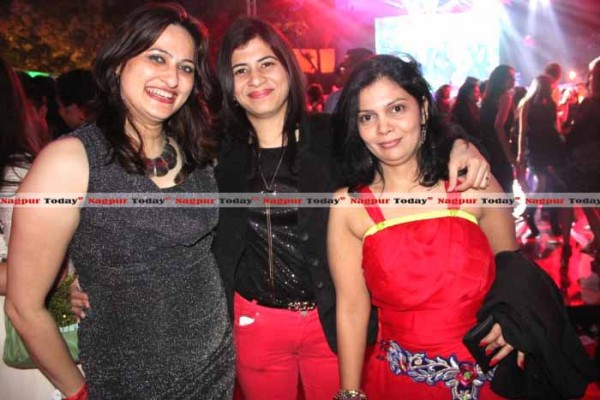 Nagpur News:
As the last night of 2013 became chilly, one of the most happening parties of the city took a pace. The Gondwana's New Year's Bash captured one and all in its colourful array of the neon theme party, fun, music, masti, dance, gifts, awards and whatnot!
The do started early at night, when stylish walks and charming faces were seen crossing the entry gate. The lively arrangements made the crowd look forward to a dynamic start of the New Year. Guests were given a Red Carpet welcome.
The DJ and his dancing troop lifted the aura of the do. A few from the crowd were entitled to various awards. The crowd bopped and tapped on the Desi music played by DJ like it's the last day of their lives. Games like Housie were played and won! Waiters were seen wearing Indian uniforms for the first time at Gondwana. Lucky dip coupons got distributed, the winners of which got exciting gifts like return tickets for a couple to Venice and Thailand. Many even quoted this one to be the best Gondwana Party.
A few even stayed back chatting until the wee hours of the morning.  Even more miraculously, despite partying hard most escaped fatigue. Around 200 wish lanterns were released in the air which made everyone stare continuously at the sky together.
One of the guests who flies back to his country from Kenya just to attend the Gondwana bash, Nandu Buty, shares his views about the do saying, "If you're new to the city, this is a melting pot; one may get to meet most who's and who of the city! The part I liked the most was, releasing wish lanterns as a gesture of saying goodbye, the feeling of which was none less than releasing the problems of 2013 in the sky. The younger lot has carried the charm and made the party move, and the rest sat back and had a ball watching them."
Nikhil Tarkunde, who was spotted enjoying to the fullest said, "It was great fun catching up with our friends, to usher in the New Year. Very well organized function it was; in spite of the large crowd, we felt wanted and very well attended to. All credits to the Managing Committee who carried the tradition of organizing the New Year's Eve as a grand gala!"
PICS BY : Vinay Thorat