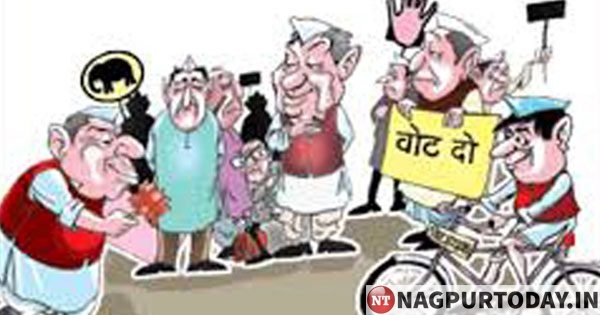 Gondia: Campaigning for Lok Sabha across the country has gained feverish pitch. In the first phase, polling will be held in 91 seats of 20 states on April 11. But even before the poll results, speculations are running wild. The satta bazaar, or the illegal betting market, had turned red hot. Three bookies of Nagpur and Gondia have claimed the Bharatiya Janata Party (BJP)-led National Democratic Alliance (NDA) returning to power. And the punters are also betting their money on NDA forming a government for a second consecutive term.
BJP may sweep Maharashtra, MP; close fight in Chhattisgarh:
If Satta Market is to be believed, BJP-Shiv Sena may sweep Maharashtra. This time, bookies are offering double rate if Congress-NCP-RPI alliance wins 20-22 seats. But according to the Satta Bazaar, Dalit Vanchit Aghadi and BSP-SP combine is likely to dent UPA seats considerably.
However, in the neighbouring Chhattisgarh, a close fight seems on cards. Satta Bazaar has predicted equal number of seats to both BJP and Congress. Hence equal rate is being offered by the bookies.
BJP likely to suffer loss of 30-40 seats in UP:
Satta Bazaar is agog with change in UP scenario. Id bookies are to be believed, BSP-SP-RLD combine will be in win-win position. On the other hand, BJP is going suffer loss of 30-40 seats in politically significant state. But BJP is likely to cover up the loss by winning considerable seats in Odisha, West Bengal, North-East states, Karnataka and Kerala and cross the magic figure 272 vital for Narendra Modi to form government without crutches. With the help of NDA allies, Modi Government seems a certain possibility.
Modi wave will win Gondia for BJP this time?
Prime Minister Narendra Modi is in Gondia on Wednesday for campaigning party candidate. Will Modi wave sweep Gondia this time? Satta Bazaar is agog with speculations. According to Satta Market, NCP (UPA alliance) is likely to be jolted in Gondia-Bhandara constituency. Modi's public rally will change scenario drastically and BJP will be in a position of gain.
Sources in the Satta Market say the BJP's prospects have improved after India carried out an air strike last month on a training camp inside Pakistan in retaliation for the Pulwama attack. Prior to the strike, bookies were expecting 200-230 seats for the BJP in the coming polls, for which they were offering 1:1 odds (Re 1 win for every rupee bet). But now they are anticipating 245-251 seats for the party and over 300 for the NDA, more than enough to form the next government.

By Ravi Arya