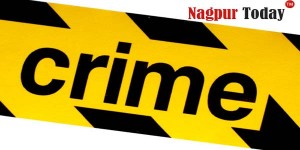 Nagpur News : Burglars seems to have formed a new modus operandi to dispose of the stolen gold. Instead of selling it directly to the jewellers, they nowadays target the goldsmiths who then helped them to dispose the stolen gold.
On Thursday, city crime branch police has nabbed a hardcore burglar Sunil Patle, 23, and a goldsmith Shyam Sunder Jana who would help Patle to dispose the gold.
Senior police inspector Madhao Giri informed that Patle, a resident of Seoni in Madhya Pradesh, is booked for around ten cases of burglaries in the city. Patle's father, Aadhar Singh was also a notorious burglar.
Police said that Patle, who has committed many house breakings at Sonegaon, Ajni, Rana Pratap Nagar, Hudkeshwar and other police station areas, has sold maximum stolen valuables to Jana.
Jana works with a sarafa jeweller in Prem Nagar in Lakadganj. Gold around Rs 2 lakhs was recovered from Patle. Cops informed that though Pathle followed the path of his father, Aadhar Singh, his younger brother in a successful engineer with a reputed job in multi national company.
"Patle would give the stolen gold valuables to Jana who would then find customers or jewellers to set up," said Giri. He added that they are trying to find ou other records of Patle, who is also involved in vehicle thefts.
In another incident, four more youths including a juvenile were arrested for their alleged involvement in housebreaking, vehicle theft and chain snatching on Wednesday night.
A gang of four – Ajay Gaur, Sonu Gaur, Akash Uikey, all in their twenties and a juvenile- has admitted of committing many house breakings and vehicle thefts. Ajay has around 3 burglary offences against him. Police said that Uikey was even jailed in a burglary case and he was released on bail. Uikey was nabbed for the second time by crime branch police.
The youths have confessed of committing a burglary in December last year under the jurisdiction of Rana Pratap Nagar police station. They had stolen vehicles from Ganeshpeth and Sonegaon police station area.
Stolen materials worth Rs 1.25 lakhs that included a television set, cylinder, a two-wheeler and other gadgets was recovered from the youths. Police are yet to interrogate the youths whether they too have taken the help from a goldsmith to dispose the stolen gold valuables.