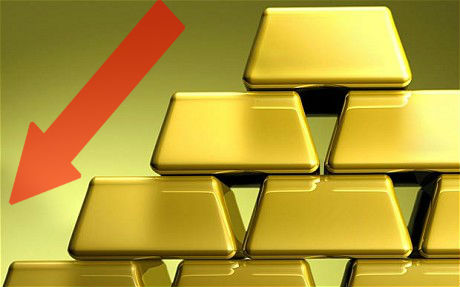 Nagpur News: Gold fell on Thursday as India's move to hike its import duty on the metal for the second time this year raised concerns about demand in the world's biggest bullion consumer.
Losses, however, were capped by strong demand in world No.2 consumer China and on hopes the U.S. Federal Reserve would stick with its bond purchases for now following indications of a still-soft U.S. job market.
Spot gold fell 0.5 percent to $1,396.36 by 12.26 p.m. It had gained slightly on Wednesday as investors looked for safer assets after a private U.S. jobs reading fell short of expectations.
"The India news is having an impact but tremendous demand from China is helping," said a precious metals trader in Sydney. "As prices went up to $1,400-$1,405, there were some sellers adding to their shorts and some longs are liquidating as well."
Investors have switched to higher-yielding stocks from gold, typically seen as a hedge against inflation, pushing bullion down 17 percent this year after 12 years of gains.
Concerns over demand in India has also weighed. The country is taking steps to discourage gold buying in an effort to cut its import bill.
India increased its import duty on gold by a third to 8 percent on Wednesday after gold imports hit 162 tonnes in May – twice the monthly average of 2011 when they reached a record.
Indian gold imports are expected to fall this year, deputy chairman of the country's Planning Commision said on Thursday without providing any estimates.
Holdings of SPDR Gold Trust, the largest gold-backed ETF, fell 0.3 percent on Tuesday after holding up for nearly a week. Holdings, which had declined for nearly three weeks before that, are at four-year lows.
CHINA DEMAND STRONG
Data from Hong Kong showed that China's gold imports unexpectedly tumbled in April from record levels as supplies failed to keep up with the demand surge that followed a sharp price decline in April, although a recovery is likely in May.
"The ongoing Shanghai arbitrage is the main attraction for demand in China," said the Sydney-based trader, referring to the premium of gold prices in Shanghai compared to London spot prices.
Gold futures in Shanghai are about $20 above spot prices, indicating that it is cheaper for the Chinese to buy gold from overseas.
Investors are keenly waiting for signs on when the Fed would dial back its $85 billion in monthly bond purchases.
U.S economic data has been in the spotlight since Fed chairman Ben Bernanke said last month the central bank would taper off monetary stimulus if the U.S. housing and job markets showed continued strength. Nonfarm payroll data, expected on Friday, will provide clues on the timing.
U.S. gold fell $2.30 to $1,396.20, while silver, platinum and palladium tracked gold lower.