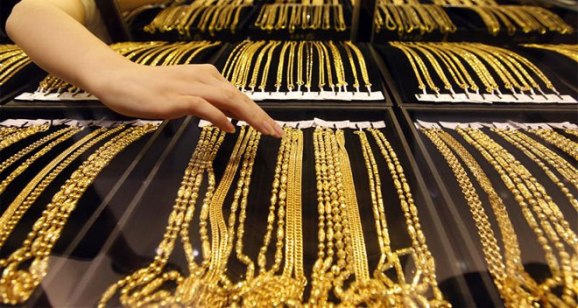 Gold, the world's biggest buyer of the metal, dropped nearly 3 percent on Monday to hit their lowest level in 15-1/2 months, mirroring losses in the world market.
At the Multi Commodity Exchange, gold for delivery in June fell sharply by Rs 825, or 2.95 percent, to Rs 27,100 per 10 gm, the lowest level since March last year. It clocked a business turnover of 3,190 lots.
On similar lines, gold for delivery in August declined by Rs 850, or 2.99 percent, to Rs 27,493 per 10 gm, in a business volume of 141 lots.
Gold prices recorded the biggest ever fall of Rs 1,250 per ten gram to hit one-year low of Rs 28,350 on Saturday.
Gold related companies shares are crashing in the market as prices of the yellow metal have been under pressure in the international market over the last few days.
Stocks of gold finance firms Muthoot Finance and Manappuram Finance were down 18 percent and 9.8 percent respectively to Rs 123.50 and Rs  17.40