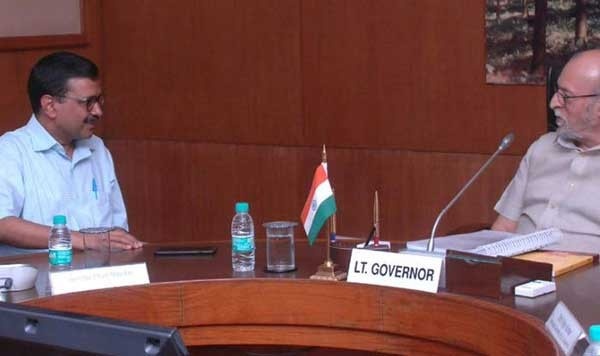 Aam Aadmi Party supremo and Delhi Chief Minister Arvind Kejriwal has asserted that the apex court has given his government "reasonable independence" to work and vowed it will work day and night for the welfare of people.
Saying that the Centre and Lt governor should go to Supreme Court to clear any "confusion" over its July 4 order, Kejriwal announced that his government will sanction funds for construction of roads and drains in unauthorised colonies in the next 10 days.
"SC judgement has given reasonable independence to our govt to work. We will work day and nite for the welfare of the people (sic)," he tweeted.
Amid the ongoing tussle over transfer and postings of officers, Kejriwal suggested that the Centre and the lieutenant governor should go to the Supreme Court to clear any "confusion" over its July 4 verdict.
The Centre and L-G are interpreting the court's judgment in a "queer" manner, he told reporters.
"My suggestion is that they should go to the court. They have confusion, we do not have any confusion," he said when asked if the government will take the 'services' issue to the apex court.
The AAP dispensation, following the Supreme Court verdict that empowered it to take executive decisions on subjects other than land, police and public order, has been sparring with the Centre and the L-G over the issue of control on the services department.
The Centre had asserted that it will be against the law to take a final view on the matter related to services as it is still pending before the Supreme Court.
"This advice is based on the Ministry of Law's opinion that the Constitution bench of the Supreme Court has clearly ordered that the matter be placed before the appropriate regular bench.
"In fact, it would be against the law to take a final view on the matter related to services which is still pending before a regular bench," Home Ministry said in a statement. — PTI