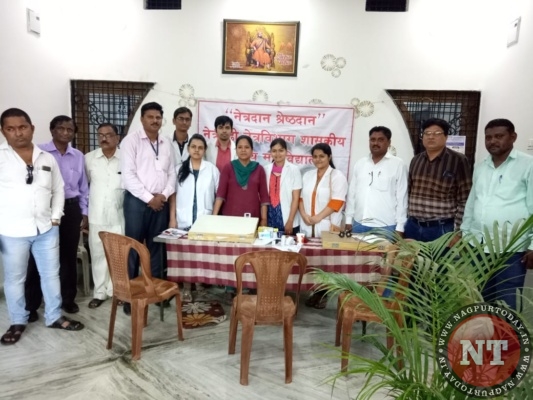 Nagpur: Under their parent initiative 'eye donation fortnight', Department of Ophthalmology, Government Medical College and Hospital (GMCH) Nagpur had organized eye check-up camps in various places examining total 1373 patients across the city between August 25 and September 7, 2018.
To promote eye donation and also to educate people its importance, the Ophthalmology Department had announced 'eye donation fortnight'. During the eye donation fortnight camps, which were organized at different places, total 1373 patients suffering from cataract, refractive error, dry eye, presbyopia, squint etc were examined by team of doctors of GMCH.
Out of total 1373 patients, 151 were suffering from cataract, 405 with refractive error, 15 with dry eye, 34 had presbyopia, 39 squint disorder along with 165 other patients were treated in these camps.
Apart from Saoner and Atkari Bhavan, Vadoda in Kamptee tahsil, the eye check-up camps were organized in Untkhana, Medical College Road, M.C Lalbahadur Shastri Hindi Medium School, Hanuman Nagar, Shri Niketan High School Vishwakarma Nagar, Sumati Devi Kanya Vidyalaya, Samyak Buddha Vihar, Dasara Road Siraspeth, Gayatri Mandir, Gayatri Nagar, IT Park, Parvati Nagar, and at other places in Nagpur.