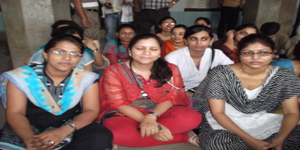 Nagpur News: Doctors of Government Medical College and Hospital (GMCH) staged a protest at the college campus today against the alleged manhandling of two doctors by the relatives of a deceased patient yesterday. The relatives of deceased Imran Khan, who had been brought to the hospital after he consumed poison, alleged that that Imran had died due to neglect.
Twenty four year old Imran Khan had been brought to GMCH on the night of October 3, after he consumed insecticide at home. Imran was soon shifted to the ICU, where the doctors tried to save him but failed. He passed away within 24 hours. Upon hearing the news of his death, his relatives were anguished and a scene was created at the hospital, which soon worsened as more people came in to either console or to side with the relatives. In the scuffle that followed, Dr. Abhay Bhange and Dr. Swapnil were seriously injured.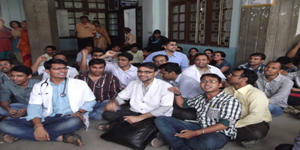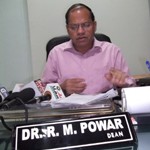 A case has been filed at Ajni police station. This afternoon, doctors of GMCH staged a protest and gheraoed GMCH Dean Dr. Rajaram Powar, demanding the positioning of at least two security guards at each ward, and immediate removal of the guard on duty on the day of the scuffle.
Dr. Powar has promised to take up the issue with the State Health Department. He has further given assurance of a complete investigation into the death of Imran Khan, to ascertain the cause of death and find out whether doctors are at fault or not.