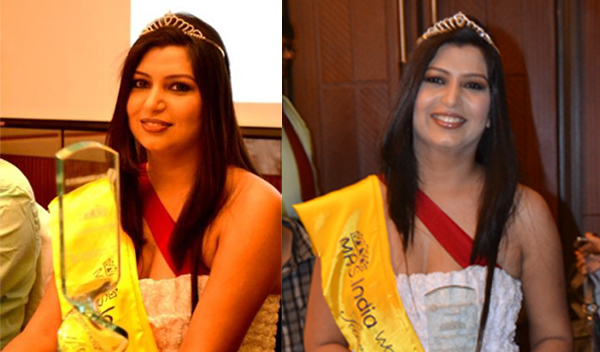 Nagpur Today – Sareeka Sapra, a business woman from our city Nagpur has won second runner up title of Mrs. India Worldwide 2012 at the Contest held in September 29, 2012 at Delhi.
Shri Sai Entertainment (p) Ltd from Delhi has organized this second Mrs. India Worldwide 2012 for the Women born in India or residing in other countries. Between age group 23 to 40 years. According to Bharat Bhramar , founder and Chairman of Shri Sai Entertainment Pvt Ltd, the aim and Objective behind organizing Mrs India Worldwide is to give an opportunity to beautiful and talents women from india to enter in glamorous world of fame and attracting a lot of fanfare.
Sareeka, born and brought up in Nagpur has completed her Bachelors degree in commerce ,Post graduate degree in Buisness Administration (MBA) and Diploma in fashion designing , is an entrepreneur of SS Boutique in Sadar area. Married in 1996, Sareeka is blesses with a daughter in 1997 and a son in 2001,Sareeka has aspirations for becoming Model or Film TV Star since her childhood.
She feels ,because of Shri Sai Entertainment ,she could fulfill her dreams as with the Title of Mrs. India Worldwide 2012, the doors of glamour world would open for her.
The auditions for the said contest were held in Mumbai, Bangalore, Hyderabad, Chandigarh, Kolkata and New Delhi between August 19 and September 1. Sareeka had attended audition round in Mumbai, Shri Sai Entertainments (P) Ltd had received 1200 entries for the same . After audition round the talent round was held in New Delhi on September 27 followed by Swim Wear Round on September 28.The grand finale of 20 women selected from these round for Mrs.India Worldwide 2012 was held on September 29,2012. Rebecca Logein Benn , A sport teacher from Raipur, Chhattisgarh has won the title of Mrs. India World Wide 2012 while Sareeka Sapra won Title of second runner–up .Nisha Sharma Delhi, and Preeti Singh from Mumbai were the first runner-up.
Sareeka attributes her success to special efforts by Sangita Behal (Personality Development), Lt Rita Gangwani ,Anup Bhandari (Modelling) and Ratnadeep Lal (IIFT) and her dress Designers.
The contest was judged by actress Aditi Govitrikar, TV Star Sara Khan , Actor Nawab Shah , Pantaloons Femina Miss India Earth 2011 Hasleen Kaur, fashion designer Sulakshana Monga, Bharat Bhramar Founder and Chairman Shri Sai Entertainment Pvt Ltd, RD Lal, Director International Institute of Fashion Technology ( IIFT ), P Mohanti ,Director Lotus Films.
Suhani & Ankita