Nagpur: With black ribbon tied on left arms, holding banners with caption on 'save the savior' the student and faculty of Government Medical College and Hospital carried out a silent protest to press their demand of immediate action on the miscreants who launched murderous doctors in Kolkata.
Speaking at the procession carried out inside the college campus, the doctors said, "Firstly we condemn the brutal attack by mob on doctor in Kolkata Medical College wherein our fellow doctor is severely injured to the extent of near death. This incident exposes sorrow state of tertiary health care in West Bengal in providing safe and healthy atmosphere for our fellow doctors."
While describing how disturbing incident is, a doctor said, "How can a mob of 200enter into hospital premises just to assault a helpless junior doctor. No one can work without having feeling of safety and health environment for working. It's wrong on part of CM West Bengal to threaten junior doctor to expel rather than going to root causes of the problem. We all know that Didi in recent past has protested vehemently by running her government from street when she felt her safety is under threat. This applies to everyone. People are angry on poor state of health system. And they find doctor as a soft target."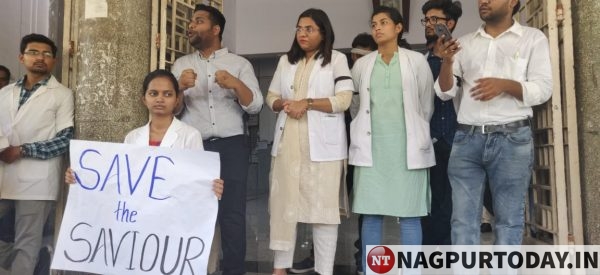 The students of GMCH suggested following precautionary measures:
1) Adequate security guards (number should be decided jointly by government and resident doctors )
2) Strict implementation of pass system (no one should enter premises without undergoing security)
3) Alarm system for critical situation throughout the hospital premise )
Long term measure
1) Improve the health care delivery by increase in number of doctors, fixed duty hours, adequate supply of medicine and paramedics, bed ratios
2) Grievances redressed system for public so that they will not resort to violence (helpline, web link)
3) Periodic review of security and actually health care delivery system with report published in public domain.
4) Make assault on doctor, un-bailable offence
5) Fixed schedule of meeting of government authority and residents doctor association to review the situation time to time.