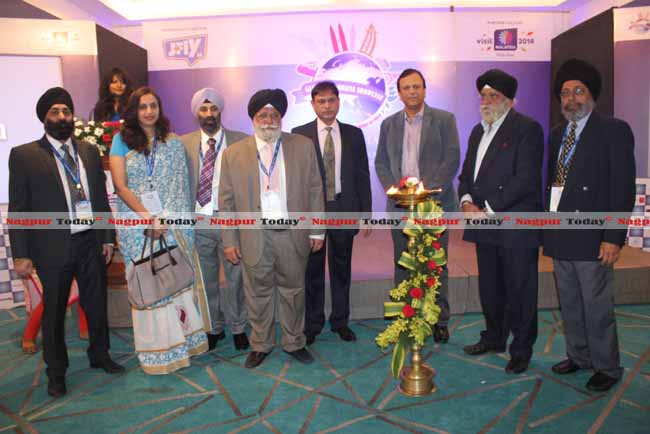 Nagpur  News : The Global Panaroma Showcase organized by Jagsons Travels was formally inaugurated at Centre Point Hotel on January 24, 2014. The Managing Director of Jagsons Travels Pvt Ltd Harmandeep Singh Anand introduced the chief guests and dignitaries.
After the dignitaries lighted the traditional lamp, the dignitaries spoke eloquently of the concept and the urgent need to start exploring the possibilities of showcasing this virgin territory in term of tourism.
Sunil Khaliyat of Emirates lauded the Jagsons team for organizing such an event and putting a brilliant show in this city. He rued his regret that he missed last year's expo. Therefore in order to make up for last year, he said that this year, he had his entire team to participate in this event.
It is a fantastic opportunity to showcase the company's products and services and to take the tourism of this region to the world. He thanked Jagsons for inviting him and his company to be a part of such a great event.
The Editor-Express Travel World & Express Hospitality-BPD from The Indian Express Ltd, Reema Lokesh Sisodia who was one of the dignitaries said that Travel and Tourism has expanded in leaps and bounds. She said that the Metros have exhausted their travel options.
It is the Tier two cities that have tremendous possibilities and that this is the right time to tap them. She said that the Jagsons Travels' Team is really very passionate about the whole industry and are striving hard to promote travel and tourism in the Central India. She also lauded the work of Madhu Saliankar of Entreps Solutions who are consultants and co-organiser for the whole event.
The Editor and COO of Travel Biz Monitor & Hospitality Biz Magazines Sheldon Santwan said that this is the first trip to Nagpur and he really liked the city and the hospitality that was shown to him. While praising the efforts of Hamandeep Singh Anand of Jagsons Travels and said that they stand for everything this event is all about.
In fact he went on to add that this event is a tribute to the Tourism Industry. He said that who knows, this could become one of the Largest Tourism Expo in Central India.
Madhu Saliankar of Entreps Solutions who is the consultant and the co-organiser of the whole event said that she visits this city at least twice every year. She said that since she comes from a two tier city as well, she recognizes that these kinds of events really boosts the possibilities of a whole range of products and services which the metro cities have on a regular intervals.
She added that the 2 Tier cities have tremendous potential in terms of Tourism and travels. Successful taping of these virgin territories and tourism places in and around these cities is where the future of tourism industry. She wished every participant good luck and big business during this expo.