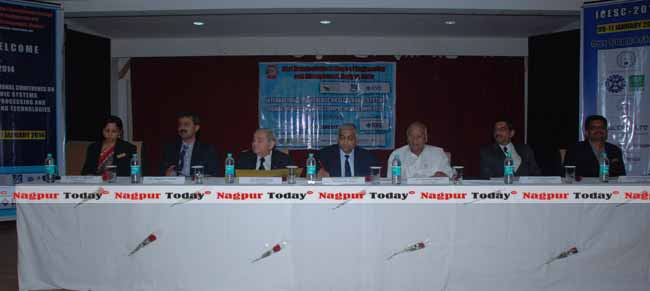 Nagpur News:
Plenary talk, Tutorial, Oral, Poster Presentation and valedictory function marked concluding day of ICESC 2014. The Third day of International Conference on Electronic Systems Signal Processing and Computing Technologies [ICESC – 2014] started with plenary session on   Lossless Image and Video Compression methods and challenges by Dr. Anil Tiwari, IIT, Jodhpur. Giving overview of various image compression methods, Dr. Tiwari discussed issues like performance comparison & error modeling ,also appealed  delegates to work on latest techniques and come up with innovative methods of compression with their research.
Second plenary talk was delivered by" Dr.Paul Cotae, UDC, Washington on Non Data Aided Time Phase Recovery Methods for Underwater Communications. Prof. Paul Coate started the session with a brief introduction about underwater communication and current underwater sensor network limitations. He motivated the participants for research in this field.
An interactive session was with Dr.Paul Cotae was oraganised for IEEE-RCOEM student branch.The session was raised to a higher and interesting level by the question asked by the student members. The topic of the question asked by the student members varied from scope of research,his association with IEEE to recent trends in technology.
Dr. Paul Cotae answered all questions with lot of patience and in details
Also further talk on CMOS-MEMS integration monolithically integrated micro resonators for oscillator applications. Was delivered by Mr. Vinayak Pachkawade research engineer in Department of Electrical Engineering at National Chiao Tung University (NCTU) Taiwan.
On the concluding day 31 research papers and 5 posters were presented in four different tracks Micro / Nano Electronic Systems, intelligent & Knowledge based systems and Multimedia Systems & Signal Processing.
Valedictory function was graced by chief guest Dr. Narendra Choudhari, Director,Visvesvaraya National Institute of Technology ,Nagpur & Guest of honor Dr.Kanti Prasad. RCOEM General Secretary Shri Govindlal Agrawal, Principal Dr. V.S. Deshpande, ICESC General Chair Dr. Rajesh Pande, ICESC General Chair Dr.Manoj Chandak & ICESC conference chair Dr. (Mrs.) A. A. Khurshid were prominently present on dais.
In her concluding speech, conference chair Dr. (Mrs.) A. A. Khurshid summed up various events, sessions & presentations conducted during ICESC 2014. She also thanked eminent speakers and delegates who had come from all across the globe to share their experience & wisdom in this three day global meet. She appreciated efforts taken by her ICESC team for successful organization of the event.
Addressing the gathering Principal Dr. V. S. Deshpande said such a International Conference is small contribution to the technological society and stressed that deliberations in the conference will be a useful to the students, researchers and everyone associated with technology.
Dr. Kanti Prasad in his address urged the learned gathering to integrate research into curriculum and until this is done it wouldn't benefit the academia. He appreciated efforts of Shri Ramdeoababa College of Engineering & Management for organizing ICESC-2014.
In his address Chief Guest Dr. Narendra Choudhari congratulated team and stated that it has not only given a platform for sharing technical expertise and knowledge but also human values. Scientist investigate what it is, Engineer creates what never had been. He gave advice to researchers to publish their research work in internationally reputed journals.
In his presidential address Shri Govindlal Agrawal applauded efforts of ICESC team for organizing a true international conference.  He appeals all faculty members, research scholars and students to take maximum benefit out of discussions held in three day summit as well as during pre- conference workshops and tutorial.
Prof. Jayu Kalambe conducted Proceedings of Valedictory function .ICESC General Chair Dr. Rajesh Pande announced best paper awards in each track and proposed vote of thanks.The awardees in each track are as follows
Track
Name of Awardee
Institution
Embedded System Design

Mr.Jaygopal Pande
CEERI Pilani Rajasthan
Analog/Mixed Circuits & Systems

M.S.Narlawa
YCCE,Nagpur
Micro / Nano Electronic Systems

Mrs. Jayu Kalambe
VNIT,Nagpur
Multimedia Systems & Signal Processing

Chateerjee
Jadavpur University, Kolkata
Intelligent & Knowledge Based Systems

Mrs. Madhuri tayal
RCOEM, Nagpur
Algorithm & Distributed Systems
Mr. Tathagat Das
Alumius Software , Kolkata

Best paper award in International category  awarded to Mr. Sagar Karalkar, University of UMASS Lowell,USA

Best poster presentation award went to Anshul Shriwas, Sachin Meshram & Prashant Titare
Prof. Vishnu Wardhan, Prof. Deepak Dahigaonkar, Prof. Vivek Khetade, Prof. Apurva Khanzode, Prof. Prachi Rane, Prof. Shubhangi Tirpude, Prof. Dipika Sagne, Prof. Prof. Raman Bondre, Prof. Archana Tiwari, Prof.Vinita Virgandham, Prof. Vaibhav Dubey Prof. Deepak Khushlani, Prof. Shital Ukunde, Prof. P. Khandar, Prof Meenakshi Wanjari, Prof Puja Agrawal ,Prof. Vipul Lande, Prof. Divya Shrivastav, Dr. Rajiv Khaire, Prof. Rajesh Khobragade, Prof. Bhalchandra Hardas, Prof. Gouri Morankar and supporting staff of RCOEM work hard for the success of conference.
ICESC Student Volunteers Ms. Nikita Prasad, Ms. Prajkta Munshi, Mr. Tushar Thapar, Mr. Pratik Gupta, Mr. Sahil Agrawal, Mr. Shubham Khandelwal ,Mr. Sahil Dalvi ,Mr.Ajinkya Ambatkar, Mr. Arnab Sarkar worked tirelessly & have been appreciated for their dedicated work.