Gittikhadan police solves kidnapping case after two months; hand over infant to mother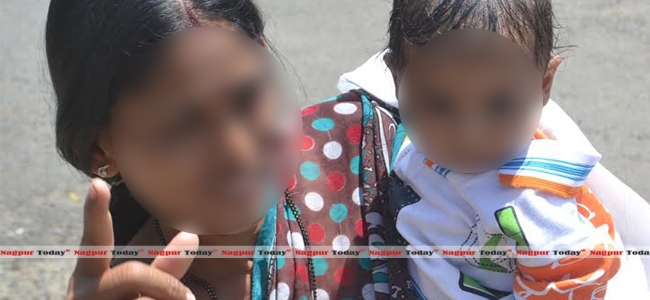 Nagpur News : Gittikhadan police were successful in solving a kidnapping of an infant who was kidnapped over two months ago from Gittikhadan area. Cops have arrested the couple, who kidnapped the kid, from Nizamabad city of Andhra Pradesh and brought them to city on Thursday. The accused have been identified as Dhanraj Ukey and Durga Ukey.
The case was headed by Sunil Bonde, Police Inspector Madhukar Bhate and Sub Inspector Sanjay Kedare. According to information, complainant lodged a complaint with Gittikhadan police two months ago that his few days old son had been kidnapped by a couple Dhanraj and Durga Ukey. Gittikhadan police launched a massive manhunt for the couple and after taking help from Nizamabad police, they finally zeroed in on the accused. Dhanraj and Durga, labours by profession, were arrested from a construction site. Gittikhadan police brought the couple to city on Thursday morning.
The couple told the cops that Dhanraj was a very close friend of Rahul who was an electrician by profession. Rahul informed him that he was in love with a girl from his village. He asked Dhanraj to help him get the girl. With the help of Dhanraj, he eloped with the girl named Ranjana. Dhanraj also helped Rahul to find a rented house at Jagdish Nagar. Rahul soon discovered that Ranjana was pregnant with his child, but he confessed to Dhanraj that he was not ready to take the responsibility of a father yet. Thus, he and Dhanraj went to a doctor with Ranjana and asked the doctor to abort the child. However, the doctor refused citing that Ranjana was already six month pregnant and that abortion was not possible. Rahul asked Dhanraj and his wife Durga to help him with the pregnancy and promised them to give away the child after birth. Dhanraj and Durga, who did not have any child of their own, agreed to help Rahul. But, after the child, Rudra, was born, Rahul refused to give the child to Dhanraj. Later the couple discovered that Rahul was giving the child to another couple in Rs One lakh. Dhanraj and Durga, who were now desperate to have the child, could not bear this betrayal from Rahul and Ranjana. Thus, they kidnapped the child and eloped to Andhra Pradesh.
Meanwhile, Rahul search for them but could not find them and finally lodged a complaint with Gittikhadan police after a month. Gittikhadan police swung into action and after a searching for a month, they finally grabbed the Ukey couple in Andhra Pradesh. Cops have handed over the kid to his real mother and have taken the culprits into their custody.