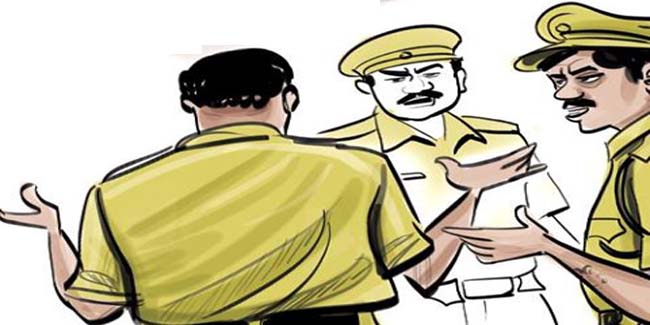 Nagpur News : More than 72 hours has been passed after a 20-year-old girl was found unconscious frothing from mouth on the road, still the incident haven't yet reported at any police stations. From last three days, the victim is battling for life and cops kept on fighting to take the case over their jurisdiction.
The regular attitude of police has exhausted the already dejected and shattered parents of the victim.
Manish Patel's parents, who had come from Dongargaon on Bhandara road, told that from last three days, they been making rounds from Nandanvan police station to Lakadganj police station, but no case has been registered so far.
Manisha, who hails from Dongargaon, has been staying with her aunt at Padole Nagar from past few years. She works as a nurse at a private hospital on Central Avenue.
Rajeshwari Borkar, victim's sister-in-law, informed that she haven't returned aunt's house from hospital on Thursday.
"She had told her aunt that she is going to her relative's house on Kharbi road. Next morning, passers-by found her unconscious at Bhim Sqaure, which is near to Padole Nagar," told Rajeshwari. She added that Manisha would often go to her relative's house in a fortnight.
Manisha was rushed to a private hospital in Lakadganj area and since then, she is yet to gain her senses. Parents told that she is kept on ventilator. Doctors have told parents that the chances of survival are less.
Her parents informed that initially, the hospital staff had alerted Lakadganj police. A constable from Lakadganj police came to the hospital and took the parent's statement. Later, he told that the case comes under the jurisdiction of Nandanvan police station and he informed Nandanvan police.
"Again a constable from Nandanvan police station came and took the parent's statement. Later, they claimed that the case comes under Lakadganj police station area," said Rajeshwari.
Fed-up of the police's negligent attitude, the victim's parents approached NMC contractor Prakash Kolhe.
Kolhe told that he too, went to both police stations but no action has been taken except that the police are transferring the case.
"The victim's parents and relatives have submitted a written application about the cop's behaviour to CP office on Sunday. They are waiting for some action to be taken," said Kolhe.
Manisha's father Tukaram suspects that his daughter has become the rape victim. He claimed that though he had insisted them for medical reports, cops denied.
Police claimed that without the victim's permission, they can't take the medical tests.
Kolhe told that the victim's cell phone has some SMSes and repeated calls from an unidentified number which can help police further but none has seized her cell phone.