Girish Karnad threatened of life on blog; threatener identified

Chief Minister of Karnataka Siddaramaiah says, "We have nothing to do with Karnad statement and there is no proposal before us to change airport's name."
Pratap Simha BJP MP in Mysore also gets death threats on social media.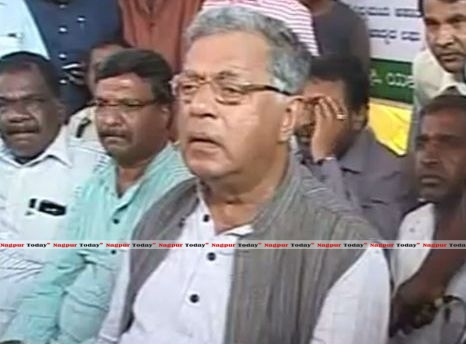 Bengaluru/ Nagpur: Tipu Sultan issue is being frowned at to such an extent that Jnanpeeth Puraskar winner Girish Karnad, who is an eminent writer and theatre-personality, gets death threat for his remark that Kempegowda International Airport in Bengaluru could be named after Tipu Sultan.
Karnad, who participated in the Congress-led Karnataka government's Tipu Jayanti celebrations, was threatened through microblogging site twitter that he would meet the same fate as that of M M Kalburgi (77). Kalburgi was shot dead on August 30, 2015 at his residence in Dharwad district of Karnataka by two unidentified men for allegedly denouncing superstition and idol worship.
Later, the Bengaluru police also received a complaint against Karnad for insulting Hindus and Kempegowda, who belonged to the Vokkaliga community. Sources said, the person who threatened Karnad has been identified but he claimed that he never posted any derogatory remarks against the Jnanpeeth awardee on twitter.
Since last few days protests against Tipu's birth anniversary celebration in Karnataka has turned in to a political issue after hundreds of BJP-VHP supporters put up road blockades at several places across the state. They demanded stern action against Karnad for admiring Tipu.
On Tuesday, Karnad said that the 18th century Mysore ruler Tipu would have enjoyed the same status as of Maratha King Chhatrapathi Shivaji, if he was a Hindu and not a Muslim.
His statement sparked controversy and drew severe criticism from right wing groups who demanded immediate action against him. Karnad was also criticised for suggesting that Bengaluru International Airport at Devanahalli could be named after Tipu rather than Kempegowda, a feudatory ruler under the erstwhile Vijayanagara Empire which founded Bengaluru in 1537.
Realising the sensitiveness of the issue, Chief Minister of Karnataka Siddaramaiah on Wednesday said, "We have nothing to do with Karnad statement and there is no proposal before us to change airport's name."
Speaking to a section of media persons, Karnad said that his statement on renaming Bengaluru airport was misquoted. "I never said that the airport should be named after Tipu. All I said was the government could rename it after Tipu," he clarified.
Meanwhile, Pratap Simha BJP MP in Mysore also gets death threats on social media. It was Simha who held the state government responsible for the violent clashes and termed Tipu Sultan as 'tyrant'.
"He was the tyrant of Mysore. Situation is tensed and the administration has failed to ensure peace," he had said.