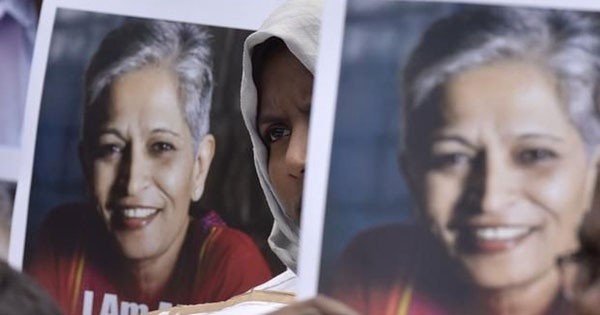 The police said KT Naveen Kumar, who was arrested in Bengaluru on February 18, might have taken the killer to the journalist's house.
A Special Investigation Team inquiring into the murder of journalist Gauri Lankesh has taken custody of a 37-year-old man who was arrested on February 18 for illegal possession of bullets, IANS reported on Friday. Unidentified assailants had murdered Lankesh at her home on September 5, 2017.
The police had arrested KT Naveen Kumar, a resident of Birur in Chikkamagaluru district, from Bengaluru. Kumar, who is believed to have links with the Hindu Yuva Sena, a Hindutva group, had talked to his friends about his links to the case, The Indian Express reported. The police suspect Kumar may have taken the killer to the journalist's house in the city's RR Nagar locality on the day of the murder.
"We have video footage of a man riding the bike near Gauri's place, on September 3 and 5, for what is clearly a recce," an unidentified official told The Times of India. "He is wearing a full-face helmet but his nose is visible. We recreated the scene with Naveen on a similar bike. Everything – from his posture on the bike to the way he rides to the nose – perfectly matches with CCTV footage."
The police are now awaiting the forensic department's analysis of their recreated images. However, the investigators have not been able to find the bike seen in the footage.
Kumar has reportedly admitted to harbouring four individuals from a right-wing organisation. The police, with Kumar's help, have drawn sketches of those individuals. "We are sure one of them, a man with receding hairline, killed Gauri," unidentified SIT officials told The Times of India. They claimed that the description of Lankesh's killer matches the description of the man who murdered scholar MM Kalburgi in 2015 in Dharwad.