Nagpur: The Nagpur Municipal Corporation (NMC), on one hand, is busy with 'Swachh Sarvekshan'- a public awareness drive which seeks to promote cleanliness in the city and on anther it drastically fails to maintain cleanliness in public lakes throughout the city.
Earlier this week, Nagpur Today highlighted the issue of Police Lake which has almost been converted into a garbage dump, thanks to the shabby attitude of NMC. Now in yet another case of complete disregard, one of the prominent city lakes, located in the heart of the city — Shukrawari Talav — is crying for help.
One of the city's most beloved spot for a family and friends get together had been left with broken safety railing which could easily lead into a mishap. The famous fountain has lost his attraction, with faded paints and pipes hanging out. The broken tiles inside the premises will give a tough challenge, if you are planning to take a walk in the park.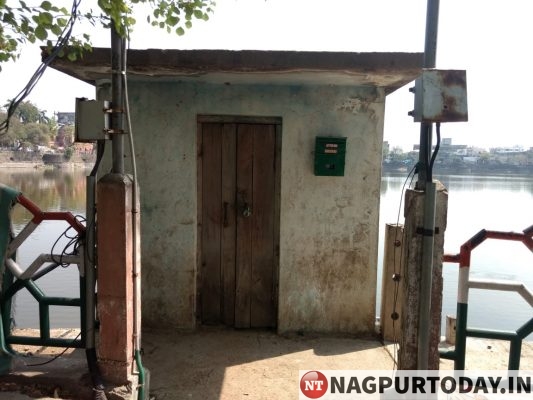 The apathetic attitude of NMC has gone to the extend that people are forced to create a temporary toilet made of curtains inside the park. The foul saga continues even further as one could easily find garbage pile up everywhere along with obnoxious smell and swarms of mosquitoes inside the park. Along with the faded sculptures one could easily find bottles of liquor, glasses packed with cigarettes inside the park premises which have become a den for many anti-social activities.
The condition of the lake is even worst; one could easily sight 'Nirmalaya' dropped in the lake and polluted water which emits bad order. With the onset of the summer, the lake should have been in good shape, considering the aqua bodies but the NMC is yet to execute any of such drive.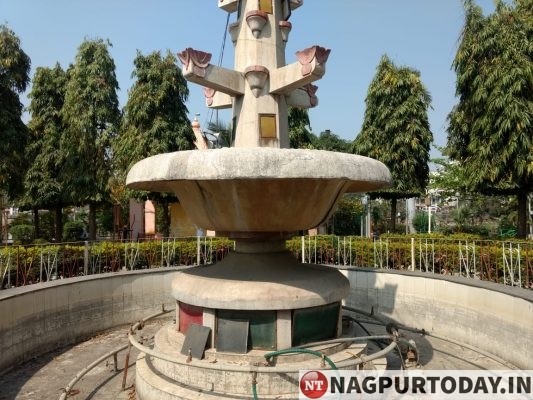 When Nagpur Today took matter to Harshla Sable, a local Corporator, she told that, "I've several times changed the motor of the fountain but one way or another some miscreants had always managed to flee with the motor leaving the fountain in the bad shape. The security appointed in park don't respond to such problems as they belonged to a private firm, which again tends to promote such irregularities inside the park," she added.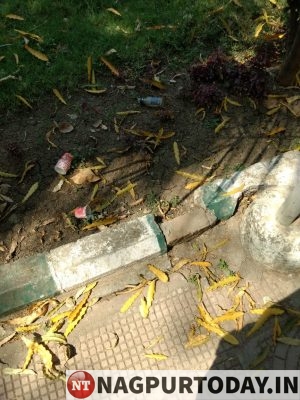 On the matter of toilets she asserted that "As far as the toilet concerned, the Hyderabad based company had been appointed to set up toilets inside the park premises however I have myself contacted them many time but they are yet to act on the contract."
– Shubham Nagdeve