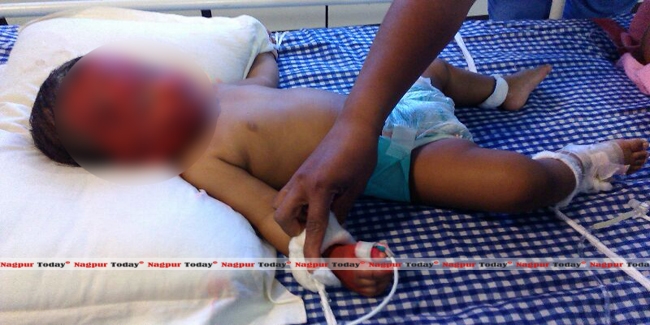 Nagpur News.
In the flying colors of Republic Day, the fun and frolic turned into tragedy for three members of family when a gas filled balloon blew off aggravating other balloons in the bunch to burst. So heavy was the impact of the explosion that all the members suffered severe burns on face, hands and chest. Including among the injured was an 11 month old Regansh Vaidya whose right side of the face was grievously charred. The other two injured include Regansh's father Pankaj and his grandmother.
Regansh was rushed to Child Hospital in Dhantoli near Mehadia Square. However when Nagpur Today contacted the father of the victim Pankaj Vaidya, a resident of Huduskeswar , said that the child is out of danger but is still critical and in ICU.
He said that when the balloon burst it dazzled the eyes of the all the members and before they could recognize anything the damage was done. He had purchased four helium gas balloons from a vendor at Manewada Square. He took the gas balloons home and gave them to his 11-month-old son Regansh who was sitting in the lap of his grandmother (mother of Pankaj Vaidhya. As soon as he handed over the strings of the balloons to his son, all the four gas balloons burst and erupted into flames. The fire burnt the right side of the face of Regansh. Entire left side of his upper torso blackened, the hands of Pankaj (father) and the hands and chest of his mother (of Pankaj).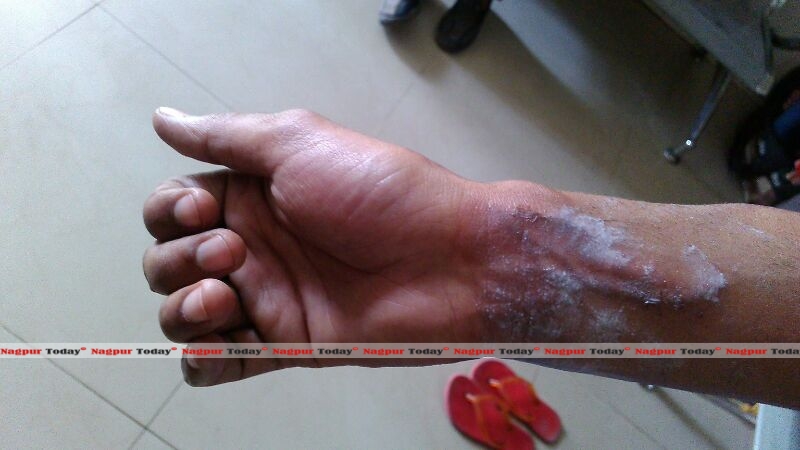 Dr. Suchita Khadse who is treating the child told Nagpur Today that the child is out of danger and though his face is appearing terrible he would be able to resume skin in short period of time. "Since the injuries are not deep, the child would get the original skin recovered in few days," she informed.
There have been series of vendors openly selling such gas filled balloons posing dangers to the lives of the little children.  The vendors often go unchecked with the policing authorities. Many accidents have been witnessed by the denizens in the city when the gas cylinder has burst or the hands of kids burnt by the chemical which the balloon vendor empties from time to time.
It is time for the denizens to wake up and avoid purchasing such balloons from these unscrupulous vendors.
::: Samuel
Pics: Vicky Thorat