Nagpur: The much-awaited arrival of Lord Ganpati is set to grace Nagpur on the 19th of September. In preparation for the grand welcome of Ganpati Bappa, the bustling markets of Nagpur are adorned with various captivating Ganesh idols in different shapes and attractive colors. The stalls are also decked with items for Ganpati decoration, illuminating the streets.
Both the Municipal Corporation and the Police Department have issued guidelines to ensure an eco-friendly Ganesh festival in the city. As per these guidelines, eco-friendly Ganpati idols are available for sale in the markets, starting from a modest price of fifteen hundred rupees, going up to two lakhs.
In addition to the idols, the market is bustling with a wide range of decorative items, including garlands, necklaces, crowns, umbrellas, lights, artificial flowers, and torans (door hangings) in various vibrant colors. These items are contributing to the festive atmosphere in the market.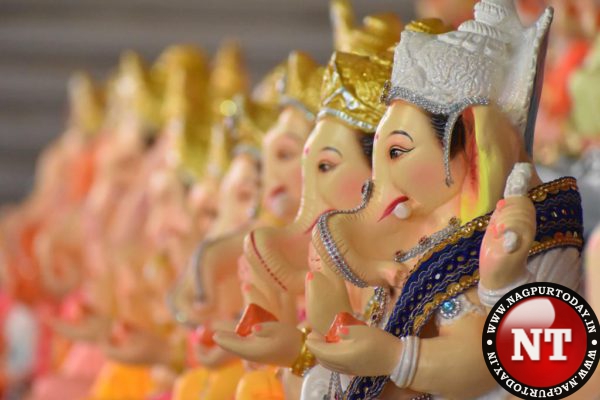 The Ganesh festival lasts for about two days, during which citizens throng the markets to purchase various festive essentials and decorative items. The streets are filled with eager shoppers looking to make their purchases for the celebration.
Nagpur, known for its grand celebration of Ganesh Chaturthi, has once again proved its enthusiasm for the festival, with the marketplaces buzzing with activity and excitement. The city is all set to welcome Lord Ganpati with open arms, and the markets are a testament to the devotion and creativity of the people in celebrating this auspicious occasion.