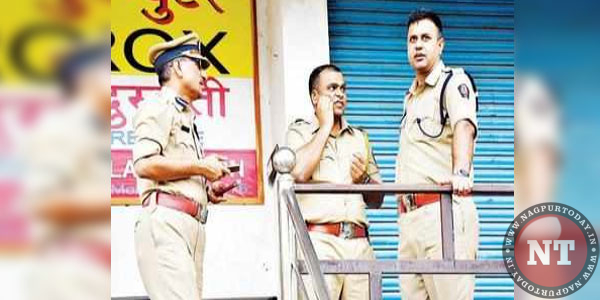 Nagpur: Dreaded goon and history sheeter Pinnu Pandey faced the wrath of rival gang on Tuesday evening after he was shot at Pension Nagar. However Pandey managed to escape with injuries. Apart from Pandey, a passer-by, identified as Mohanlal Dhuriya, resident of Misal Layout, was also injured in the firing. The incident happened under jurisdiction of Gittikhadan police station. Pinnu Pandey has been in the eye of another goon Sumit Thakur who was vying to establish his supremacy in the area. The firing was understood to be the fallout of this gang rivalry.
Pandey was standing by side of a pankiosk when two bike borne youth came and shot at him.
Two bike-borne assailants fired five shots at a goon Pinnu Pandey at Pension Nagar square on Monday evening. A bullet pierced through the right leg of Pandey and another person osustained injuries as the bullet went through his palm, said Gittikhadan police.
Pandey was accused in attempt to murder and arms act case. Recently he was released from the jail on bail. After suppression of Gwalbanshi clan from Gittikhadan area, Pinnu Pandey and Sumit Thakur were jostling to establish their supremacy.
Sources said police had learnt recently that something big is going to occur as release of Pandey means the two gang going to lock horns. Even as police were trying to workout more information the attack took place. As per information, the assailants were waiting for the signal near Pension Nagar school area. After getting signal, the bikers moved to Pension Nagar square. The shooter was riding pillion with gun in his hand.
After spotting Pandey near NarmadaTraders,the assailant stopped the bike and fired shots at him. The incident occurred close to 5 pm. Sensing danger Pandey took to his heels and dashed to a near-by lane. He then rushed into Arun Plastic shop and downed the shutters. His presence of mind probably saved his life. Stunned by sudden entry of injured Pandey, the shop owner – Yogesh Awasthi -was surprised. Pandey already gasping for breath said that assailants are on his prowl and attempted to kill him. Awasthi immediately bolted the shutter from inside.
Meanwhile, Pandey called Police Control Room and narrated the incident. Staff of Gittikhadan police station rushed to the spot. Sources informed that more than 25 members of Pandey's gang also descended at the spot and shifted injured Pandey in tight security to hospital. Joint Commissioner of Police Shivaji rao Bodkhe, Additional CP Shamrao Dighaonkar, Deputy Commissioner of Police (DCP) Zone II Rakesh Ola and DCP Detection Sambhaji Kadam also visited the spot and studied CCTV footage.
Handiwork of Sumit Thakur gang
The cops have activated their informers and prima facie learnt that the firing incident was handi work of SumitThakur gang. Pandey in his statement to police recorded that Thakur, Irfan Lala, Naushad, Pinku Tiwari and two others murderously attacked him. As per Pandey's statement, four persons came on two vehicles, including a moped and a motorcycle. DCP Rakesh Ola said that search have been launched to arrest the accused. "Teams of Zone II and Crime Branch are searching for the accused," said DCP Ola.